"Let Them Read"– PRH and Legal Aid Bringing Books to Kids in Court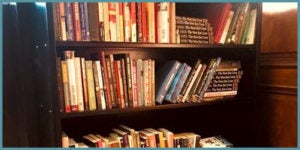 Last week, the Legal Aid Society announced a new campaign in collaboration with Penguin Random House called "Let Them Read," which brings books into courtrooms for young New Yorkers to read while they wait for their cases to be called. PRH donated more than 200 titles for the launch of the pilot program in Brooklyn.
"We at Penguin Random House are so pleased to support the vital work of the Legal Aid Society and this very important pilot," said Madeline McIntosh. "We look forward to providing Legal Aid with books for the collection at Brooklyn's Youth Court and other libraries, and to connecting the young people they represent with books that we hope will inform, entertain and inspire."
For decades, courts in NYC have prohibited local residents from reading books in court – even as they languish long hours to have their case heard before a judge. Now, Legal Aid clients and others in Brooklyn's Adolescent and Young Adult Diversion (APY2) court will have direct access to books on a courtroom bookshelf, stocked with more than 200 titles published by Penguin Random House, including BETWEEN THE WORLD AND ME by Ta-Nehisi Coates, BORN A CRIME by Trevor Noah, DECODED by Jay-Z, FRESH OFF THE BOAT by Eddie Huang and GHETTOSIDE by Jill Leovy.
While this pilot program began in Brooklyn, if successful, Legal Aid hopes to see it expand to all courts across NYC.
" Let Them Read" and Penguin Random House's book donation was covered in the New York Daily News, Brooklyn Daily Eagle, Queens Daily Eagle and Patch.
For over 140 years, the Legal Aid Society, through its Civil, Criminal Defense, and Juvenile Rights Practices, has offered an unmatched depth and breadth of legal expertise to vulnerable New Yorkers.
Posted: January 4, 2019