LET THEM SEE YOU Author Porter Braswell Tackles Workplace Diversity and Inclusion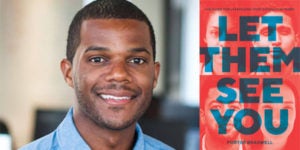 Porter Braswell, the CEO and co-founder of Jopwell, the leading career advancement platform for Black, Latinx, and Native American students and professionals, shares straight-talking advice and mentorship for diverse careerists, from college students to mid-level professionals, in LET THEM SEE YOU: The Guide for Leveraging Your Diversity at Work, published by Lorena Jones Books/Ten Speed Press on Tuesday, January 15.
A Yale graduate and former Goldman Sachs analyst, Braswell wanted to do more to help the 40 million people of color in the workplace. So he presented a book proposal to Publisher Lorena Jones. Braswell remembers, "Within the first few minutes of our initial conversation, I could tell that Lorena truly understood the importance of LET THEM SEE YOU. She had a clear passion for bringing the conversation around diversity in the workplace to the forefront and elevating new voices. Lorena was an incredible partner throughout the entire process and I'm thankful to have had her expertise in my corner."
In this "Meet Our Author" Igloo Interview, Braswell delves into his personal experiences, views and goals, while offering a road map for everyone looking to effectively help improve diversity and inclusion in the workplace.
Can you tell us a little bit about the impetus for starting Jopwell and how it led to you writing LET THEM SEE YOU?
Both Jopwell and LET THEM SEE YOU stem from a very personal desire to create a more inclusive workplace. While my co-founder, Ryan Williams, and I were hired to buy and sell currencies, we would also frequently assist with diversity recruitment and marketing initiatives. We knew there had to be a better, more scalable way for companies to find and connect with diverse talent, so we left our jobs in finance and set out to build it. Jopwell empowers employers to build more diverse companies while providing candidates the tools they need to unlock opportunities for career advancement at every career stage. We now partner with over 120 of America's leading companies, including Amazon, BlackRock, Peloton, the PGA, and WeWork. Jopwell has also facilitated tens of thousands of connections for our community.
Since launching Jopwell in 2015, I have had many conversations with members of our community to learn about their workplace challenges, frustrations, and successes. From these conversations, it became clear to me that there needed to be a resource that professionals of color could turn to for honest advice and mentorship to help them thrive in the workplace. LET THEM SEE YOU provides the advice and learnings I wish someone had shared with me when I was starting out in my career. I wrote it to empower professionals of color by providing tips on how to navigate difficult workplace situations unique to people of color and provide guidance on how to thrive in their careers.
What are some of the steps companies can take to create more inclusive workplaces?
While we have been encouraged by the national conversation around representation in the workplace, real progress does not happen overnight. It is difficult to retroactively increase diversity and build a culture of inclusion, especially within organizations that have historically lacked representation for the past several decades. Every organization faces unique challenges regarding the lack of diversity and it's important to remember that change takes time.
The first steps toward creating a more diverse workplace are acknowledging the problem in specific terms, encouraging transparency and ensuring buy-in from key stakeholders. From there, it is important to conduct a needs assessment for a diversity initiative in order to develop and execute an action plan tailored to the company's specific pain points. It is also crucial to align on the objectives and success metrics to ensure there is accountability and real change is implemented within the organization.
What can entry-level or more junior employees do to effect change?
I firmly believe that change begins with honest dialogue, even if it's a tough conversation to have. When you're starting out in your career, it can be intimidating to address the lack of representation within the organization's walls, especially when you are one of the only people of color in a majority workplace. The more conversations you have — whether it be with your peer, manager or member of the human resources department — the more awareness and empathy there will be for the unique challenges people of color face at work. It is my hope that these conversations will both shine a light on and correct the biases that exist and begin to foster a more inclusive work environment.
Tell us a bit about the concept of diversity champions, and what, in your mind, is key to being an effective ally?
A diversity champion is someone who understands the importance of increasing representation in the workplace and is a driving force behind cultural change at their organization. You can't effectively drive change without understanding the experiences and perspectives of your coworkers, so becoming an ally starts with learning to actively listen to those around you. This will allow you to truly build a successful approach to increasing diversity and inclusion that addresses and solves for the challenges employees of all backgrounds face in the workplace, while empowering them to thrive in their careers.
Posted: January 15, 2019