Librarian of Congress Carla Hayden Visits Penguin Random House to Talk Books, Diversity and Inclusion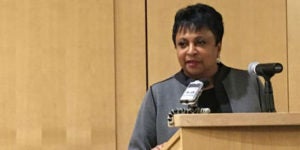 It was an honor to welcome Dr. Carla Hayden, Librarian of Congress, to Penguin Random House for a special event presented by the Penguin Young Readers Marketing & Publicity Diversity Committee, with Penguin Young Readers Brand Coordinator Chloe Goodhart producing, at 345 Hudson Street on Tuesday, November 1. Penguin Young Readers President Jen Loja introduced Dr. Hayden, nominated by President Barack Obama in February 2016, confirmed by the U.S. Senate five months later, and appointed the 14th Librarian of Congress in September 2016, becoming the first African American and the first woman to lead the world's largest library.   
At outset of her talk, Dr. Hayden admitted she was a "fan girl" of National Book Award-winning Penguin Random House author Jacqueline Woodson, who was among the fully engaged colleagues and guests that filled the room to capacity.
Growing up on the South Side of Chicago, Dr. Hayden said she was raised to be "socially conscious." Recalling when she was an 8-year-old young reader, she pointed to Marguerite De Angeli's BRIGHT APRIL (initially published by Doubleday in 1946) as "the first book I loved … because I saw myself.  It's first time I saw a sympathetic portrayal of girls that looked like me."
Dr. Hayden discussed her beginnings as a librarian in the Chicago Public Library system, eventually rising to the post of deputy commissioner and chief librarian. In Chicago, she was keenly aware of the absence of characters of color in children's books and was determined to "right every wrong."
She also taught Library & Information Science at the University of Pittsburgh. She became head of the Baltimore Library system in 1993, earning praise for her work to ensure that the city's library system offered a broad array of services to assist citizens from all walks of life.  She received Library Journal's Librarian of the Year Award in 1995.
Amidst the unrest that occurred in Baltimore in 2015 following the arrest of Freddie Gray and his subsequent death, Dr. Hayden said, "Our branch libraries were right at the epicenter on Pennsylvania Avenue.  We offered safe havens. We helped raise money. And a 2-story high mural of an African American girl reading – called 'Penny' after a naming contest – was protected and never defaced."
Since shifting from the Baltimore library system to the Library of Congress in Washington, DC, she keeps asking herself, "What can I do to make a difference?" She is determined "to open up the Library of Congress's treasure chest to all, particularly young people."
She shared a story about 8-year-old Adam Coffey who penned a hand-written note to her requesting a Library of Congress "readers card," which can only be issued to individuals aged 16 and older.  He wrote, "I don't want to wait eight years."  So with his parents' permission, she arranged a visit and a tour.
In an effort to further attract interest in the Library of Congress among young readers, Dr. Hayden has been working to expand the new Youth Center – a space dedicated to such areas as comic books, graphic novels and "forensic studies" of original historical manuscripts. "The goal," she said, "is to create space that will used and inspire a series of 'pinch me' moments for visitors to the center."
Before the conclusion of the event, Ms. Goodhart shared a number of questions PRH colleagues had submitted in advance.  Among them: "How is digital technology used in the Library of Congress?" Dr. Hayden responded, "We have respect for young peoples' intellect, curiosity and digital preferences. There could be a YouTube channel where stories can be shared.  We have a lot of social media content, and traveling exhibits are being planned.  We're always open to trying something new."
Dr. Hayden reminded everyone, "Books that mirror who we are in real life mean so much. Young people need to see themselves in what they are reading. They need to be able to say, 'OK. I'm cool, too.' Diversity and personal identity in what we read is now more important than ever."
Posted: November 15, 2017