Lisa Donovan Shares Stories From Her New Memoir via Facebook Live (9/19)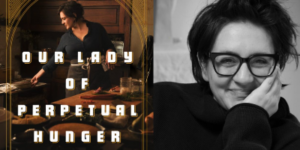 Noted chef and James Beard Award-winning writer Lisa Donovan will share insights into her new memoir, OUR LADY OF PERPETUAL HUNGER (Penguin Press), at the LDEI of New Orleans Virtual Culinary Book Club via Facebook Live on Saturday, September 19 at 12:00 pm (ET).  
OUR LADY OF PERPETUAL HUNGER is Donovan's searing, beautiful, and searching chronicle of reclaiming her own story and the narrative of the women who came before her. Her family's matriarchs found strength and passion through food, and they inspired Donovan's accomplished career. Donovan's love language is hospitality, and she wants to welcome everyone to the table of good food and fairness.  Donovan herself had been told at every juncture that she wasn't enough: she came from a struggling southern family that felt ashamed of its own mixed race heritage and whose elders diminished their women. She survived abuse and assault as a young mother. But Donovan's salvations were food, self-reliance, and the network of women in food who stood by her.
Lisa Donovan has redefined what it means to be a "southern baker" as the pastry chef to some of the South's most influential chefs, including Margot McCormack, Tandy Wilson, and Sean Brock. Unabashedly serving her church cakes and pies to finish fine-dining experiences, she has been formative in establishing a technique-driven and historically rich narrative of southern pastry. Donovan received a James Beard Award for her writing in Food & Wine, where she is a regular contributor, and she has been a featured speaker at René Redzepi's globally renowned MAD Symposium. Our Lady of Perpetual Hunger is her first book.
!! As a reminder, if you are posting to a personal or other non-PRH account you must include the hashtag #TeamPRH !!
Posted: September 17, 2020