Lisa McInerney's THE GLORIOUS HERESIES Wins Baileys Women's Prize for Fiction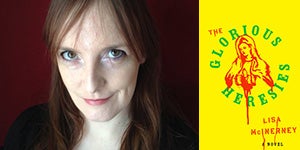 Crown Publishing Group author Lisa McInerney has won the  Baileys Women's Prize for Fiction for her novel THE GLORIOUS HERESIES, which will be published by Tim Duggan Books on August 9, 2016.  The prize was announced in London Wednesday evening and is the UK's most prestigious annual book award for fiction written by a woman.  Founded in 1996 as the Orange Prize for Fiction, this award "celebrates excellence, originality and accessibility in writing by women from throughout the world."
Congratulations to Ms. McInerney, her publisher and everyone involved with this extraordinary work.
A searing debut novel about life on the fringes of Ireland's post-crash society, THE GLORIOUS HERESIES is biting, darkly funny, and presents an unforgettable vision of a city plagued by poverty and exploitation, where salvation still awaits in the most unexpected places.
The chair of the Baileys Women's Prize for Fiction judges was Margaret Mountford. This year's judging panel also consisted of former Everything But the Girl singer Tracey Thorn, Viking/Penguin novelist Elif Shafak, journalist Laurie Penny and BBC Breakfast presenter, Naga Munchetty.
Posted: June 8, 2016