Lisa Woodruff to Discuss THE PAPER SOLUTION via Facebook (8/6)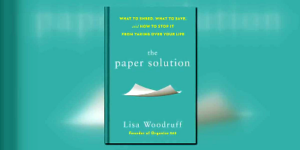 Lisa Woodruff will discuss THE PAPER SOLUTION: What to Shred, What to Save, and How to Stop It From Taking Over Your Life (Putnam) with journalist Victoria Babu at a virtual event hosted by the St. Louis County Library via Facebook on Thursday, August 6 at 8:00 pm (ET).
From the "Marie Kondo of paper" comes a simple and accessible guide to paper management. Studies show that fully 85 percent of the paper in our lives can be tossed—but which 85 percent? And how do we organize and manage the 15 percent that remains? At the heart of it all is the Sunday Basket: a box that sits on your counter and corrals those stray bills, forms, coupons, and scraps into an easy-to-use paper-management system.
Woodruff started Organize365 at her kitchen table in 2012, and today it has become the go-to brand for paper organization, offering podcasts, organizational products, professional certifications, and Sunday Basket workshops that attract people from around the U.S. seeking tools to tame the out-of-control paper in their lives. She lives in West Chester, Ohio, with her family.
!! As a reminder, if you are posting to a personal or other non-PRH account you must include the hashtag #TeamPRH !!
Posted: August 5, 2020