Listen to LET THEM SEE YOU Author Porter Braswell's "Race at Work" Podcast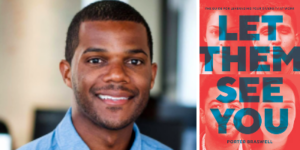 Porter Braswell, author of LET THEM SEE YOU: The Guide for Leveraging Your Diversity at Work (Lorena Jones Books/Ten Speed Press), has pivoted into podcasting. Mr. Braswell shares: "Toward the end of 2020, amidst the horrific acts of racial injustice, I decided to launch a podcast with Harvard Business Review called Race at Work – a show that explores the role race plays in our careers and lives. It was my small way of trying to help build bridges as I was tired of people speaking past one another. So far, the show has received incredible responses from listeners, noting appreciation for validating the experiences of professionals of color and for covering topics that the majority population is curious about, but may not feel comfortable raising."
"Race at Work" podcast guests have included U.S. Congressman Antonio Delgado, PGA of America's Sandy Cross, and Doug Melville, VP, Head of Diversity & Inclusion at Richemont North America.
To access the "Race at Work" podcast landing page, click here.
We hope you'll listen, and share the podcast with your colleagues and personal network.
Porter Braswell is a Yale graduate and former Goldman Sachs associate who cofounded Jopwell.com, the leading career advancement platform for Black, Latinx, and Native American students and professionals. Mr. Braswell frequently speaks about diversity in the workplace to Jopwell's corporate clients
He says of his book: "LET THEM SEE YOU provides the advice and learnings I wish someone had shared with me when I was starting out in my career. I wrote it to empower professionals of color by providing tips on how to navigate difficult workplace situations unique to people of color and provide guidance on how to thrive in their careers."
Mr. Braswell has been profiled in Fast Company, Forbes, Inc., Tech Crunch, Vanity Fair, and Adweek, and has received numerous awards and recognition, such as LinkedIn's Next Wave: Top Professionals 35 and Under, Inc. magazine's 30 Under 30, Fast Company's 100 Most Creative People in Business, Vanity Fair's Future Innovators Index, and Adweek's Young Influencers. In 2018, he was named to the Crain's New York Business 40 Under 40 list. He lives in New York City.
Posted: January 25, 2021