Listening Library Author Jarrett J. Krosoczka Wins an Odyssey Honor Audiobook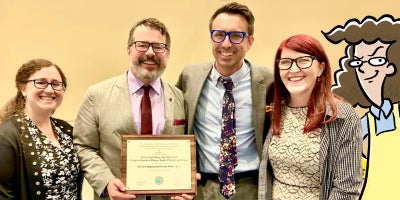 On June 26, author Jarrett J. Krosoczka received the Odyssey Honor for Excellence in Children's Books at the American Library Association Annual Conference Chicago for his work THE FIRST HELPING (LUNCH LADY BOOKS 1 & 2).
Also in attendance were our very own Nick Martorelli, Executive Producer, Audio Production and Lauren Klein, Associate Producer, Audio, both of whom had worked on the audiobook alongside Krosoczka.  
One of the highlights of the event had to be the original skit written and performed by the author with special guest Kate Flannery, the voice of the lunch lady. Flannery is not new to playing a part as she is most known for playing Meredith Palmer on the NBC hit series The Office. Their pun-tastic skit has gained attention after Krosoczka posted it on TikTok, having reached more than 3,500 views.  
To watch the full acceptance and skit, click here. 
Posted: July 10, 2023