Listening Library Partners With American Girl to Bring Classic and New Titles to Audio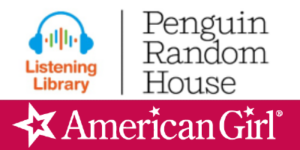 Listening Library, a Penguin Random House Audio imprint, is partnering with American Girl, a premier brand for girls and a Mattel subsidiary, to introduce more than 50 new and classic American Girl titles to audiobook listeners beginning in June 2022.
Titles included in the partnership feature an expansive range of cherished characters like Kaya, Addy, and Samantha; contemporary characters from The Girl of the Year and World by Us series, the playful WellieWishers series; and nonfiction wellbeing titles for girls. The initial catalog coming this summer will include more than 40 audiobooks, with additional titles to be released this fall and spring 2023.
Amanda D'Acierno, President & Publisher of Penguin Random House Audio, said, "Generations of girls have loved reading about these characters, and we're excited to work with American Girl to give voice to their stories on audio, pairing these beloved characters with narrators that reflect their diverse range of backgrounds."
Jodi Goldberg, American Girl's Senior Director of Content Development, said, "American Girl is pleased to partner with Penguin Random House Audio to create audiobooks that bring our characters' stories to life in a fun new way. Whether girls listen at home or on the go, they'll always have their favorite American Girl stories by their side."
This new audio collection will include such titles as:
SAMANTHA HELPS A FRIEND by Rebecca Mallary, read by Saskia Maarleveld
COURTNEY CHANGES THE GAME by Kellen Hertz, read by Jesse Vilinsky
CORINNE by Wendy Wan-Long Shang, read by Carolyn Kang
MAKENA: See Me, Hear Me, Know Me by Denise Lewis Patrick, read by Nicole Lewis
WILLA'S WILDERNESS CAMPOUT by Valerie Tripp, read by Cassandra Morris
THE CARE & KEEPING OF YOU 1 – 20th ANNIVERSARY EDITION by Valorie Schaefer, read by Emily Woo Zeller
American Girl's award-winning books—stories of adventure, friendship, courage, and compassion—have been beloved by girls for more than 35 years. From historical and contemporary fiction that celebrates girls yesterday and today to nonfiction advice and activity titles that help girls navigate the changes and challenges of growing up, American Girl's notable library of books provide good reads that inspire girls to be good people.
Posted: March 28, 2022