Litquake on Lockdown Presents Ishmael Beah via Crowdcast (5/20)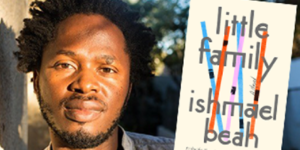 Ishmael Beah, author of LITTLE FAMILY (Riverhead),is participating in Litquake on Lockdown via Crowdcast on Wednesday, May 20, at 9:00pm (ET).
Beah has written a powerful novel about young people living at the margins of society, struggling to replace the homes they have lost with the one they have created together. A profound and tender portrayal of the connections we forge to survive the fate we're dealt, LITTLE FAMILY marks the further blossoming of a unique global literary voice.
Ishmael Beah is the Sierra Leonean and American author of the novel Radiance of Tomorrow and the memoir, A Long Way Gone, which was a #1 New York Times bestseller and has been published in more than forty languages. A UNICEF Ambassador and Advocate for Children Affected by War, and a member of the Human Rights Watch Children's Advisory Committee, he lives in Los Angeles with his wife and their children.
!! As a reminder, if you are a PRH employee posting to a personal or other non-PRH account, you must include the hashtag #TeamPRH !! 
Posted: May 19, 2020