LitWorld Hosts World of Stories Virtual Gala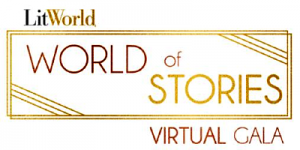 LitWorld, a longtime, valued Penguin Random House partner, hosted the World of Stories Virtual Gala that, thanks to substantial community support, raised an additional $52,000 for Litworld's spring campaign to bring the joy of learning to children, from Pakistan to the Philippines.
The special World of Stories Virtual Gala held on Wednesday, June 16, celebrated the impact of LitWorld's work with the global community and granted the exclusive opportunity for attendees to enjoy an interview with honoree Jerry Craft, a Newbery award-winning author and illustrator, in-depth looks at LitClubs around the world, and a conversation with literacy experts Pam Allyn and Ernest Morrell. The highlights from the unforgettable night can be seen here.
Penguin Random House is honored to have contributed to this year's virtual gala. This recent support further deepens our longstanding partnership, which includes initiatives such as this year's World Read Aloud Day and as LitWorld being the beneficiary of the 2019 Penguin Hotline.
LitWorld is strengthening kids and communities through the power of stories. To learn more about this nonprofit organization and its critical work, click here.
Posted: July 6, 2021