Live from the NYPL: Barton Gellman to Tell His Side of the Story of Edward Snowden via Zoom (6/11)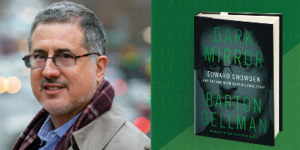 Live from the New York Public Library: Barton Gellman, author of DARK MIRROR: Edward Snowden and the American Surveillance State (Penguin Press), will be in conversation with Emily Bell, Director of Columbia Journalism School's Tow Center for Digital Journalism, via Zoom on Thursday, June 11at 8:00pm (ET).
From the three-time Pulitzer Prize winner and author of the New York Times bestseller Angler, DARK MIRROR is the definitive master narrative of Edward Snowden and the modern surveillance state, based on unique access to Snowden and groundbreaking reportage around the world. Snowden touched off a global debate in 2013 when he gave Barton Gellman, Laura Poitras and Glenn Greenwald each a vast and explosive archive of highly classified files revealing the extent of the American government's access to our every communication. They shared the Pulitzer Prize that year for public service. For Gellman, who never stopped reporting, that was only the beginning.
Gellman, a Pulitzer Prize and Emmy Award-winning journalist, is a staff writer at The Atlantic and a senior fellow at the Century Foundation. In previous assignments he served tours as legal, military, diplomatic, and foreign correspondent for The Washington Post. His bestselling Angler: The Cheney Vice Presidency won the Los Angeles Times Book Prize and was a New York Times Notable Book of 2008.
!! As a reminder, if you are a PRH employee posting to a personal or other non-PRH account, you must include the hashtag #TeamPRH !! 
Posted: June 10, 2020