Looking for Daily Inspiration?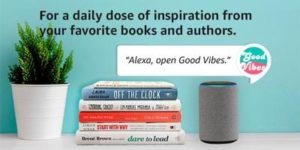 Penguin Random House has launched a Good Vibes skill for Amazon Alexa that provides a daily dose of inspiration from PRH's bestselling books and authors. The skill features a wide range of uplifting, motivational quotes from audiobooks narrated by many of our authors, including Mindy Kaling, Lin-Manuel Miranda, Elizabeth Gilbert, William Shatner, Gretchen Rubin, Nick Offerman, and Fred Rogers , among others.
Just ask, "Alexa, Open Good Vibes," to listen to up to three quotes a day and learn more about the featured books. Users can also opt-in to receive more information as well as additional book recommendations via email. Click here to enable the Good Vibes skill for Amazon Alexa if you need to keep calm and carry on during this hectic holiday season or are just looking to start every day inspired.
Posted: December 3, 2018