Lucas Hedges, Nicole Kidman and Russell Crowe to Star in BOY ERASED Film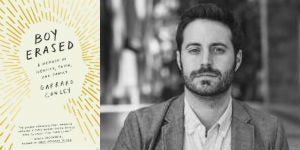 Riverhead Books is proud to announce that BOY ERASED is being adapted for the big screen by Focus Features. The compelling and compassionate memoir by Garrard Conley is being scripted and directed by Joel Edgerton, two years after his directorial debut, The Gift.Along with being behind the camera, Edgerton will be also play the role of the conversion-therapy camp manager in the film. Boy Erased will star a number of notable actors, both seasoned and new. Lucas Hedges, who played in the Oscar-nominated Manchester by the Sea, will star as the film's young protagonist along with Nicole Kidman and Russell Crowe as Conley's parents. Conley was offered the opportunity to write the film adaptation of his story, but declined, as he believed that it would be translated to screen better if an experienced filmmaker wrote it. He has worked very closely with the director and production team to ensure that the movie will stay true to his story, along with proper representation. Read more on his website. 
In BOY ERASED: A Memoir of Identity, Faith and Family, Conley, the son of a Baptist pastor and deeply embedded in church life in small town Arkansas, reveals he was terrified and conflicted about his sexuality as a young man.  When Conley was a nineteen-year-old college student, he was outed to his parents, and was forced to make a life-changing decision: either agree to attend a church-supported conversion therapy program that promised to "cure" him of homosexuality; or risk losing family, friends, and the God he had prayed to every day of his life.  By confronting his buried past and the burden of a life lived in shadow, Conley traces the complex relationships among family, faith, and community. At times heart-breaking, at times triumphant, this memoir is a testament to love that survives despite all odds.
Posted: July 10, 2017