Luiselli and Vuong Receive MacArthur "Genius Grants"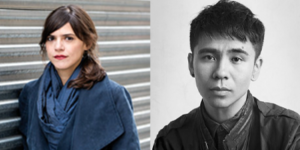 Two Penguin Random House authors, Valeria Luiselli and Ocean Vuong, have been named 2019 MacArthur Fellows. This prestigious fellowship (often referred to as the "Genuis Grant") from the MacArthur Foundation honors "talented individuals who have shown extraordinary originality and dedication in their creative pursuits" and comes with a no-strings-attached grant of $625,000.
Luiselli is the author of the highly praised LOST CHILDREN ARCHIVE (Knopf), longlisted for the 2019 Booker Prize. Vuong is the author of the critically acclaimed, New York Times bestselling ON EARTH WE'RE BRIEFLY GORGEOUS (Penguin Press), longlisted for 2019 National Book Award for Fiction and a finalist for the Center for Fiction First Novel Prize.
Congratulations to Ms. Luiselli and Mr. Vuong.
To view the complete list of 2019 MacArthur Fellows, click here.
The John D. and Catherine T. MacArthur Foundation supports creative people, effective institutions, and influential networks building a more just, verdant, and peaceful world. MacArthur is placing a few big bets that truly significant progress is possible on some of the world's most pressing social challenges, including over-incarceration, global climate change, nuclear risk, and significantly increasing financial capital for the social sector.
Valeria Luiselli photo © Diego Berruecos/Gatopardo
Ocean Vuong photo © Tom Hines
Posted: September 27, 2019