Luminous 1st Week for Michelle Obama's "The Light We Carry"
"Becoming," Michelle Obama's previous book, was a record-setting, bestselling memoir, so expectations and anticipation for her newest, "The Light We Carry," have been enormous since the July announcement of its November 15 publication by Crown. In its first days on sale, it is not only meeting those expectations, but generating enough super-wattage energy to illuminate bookselling and social media communities.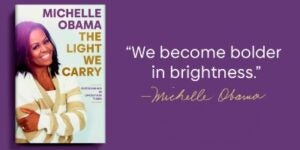 In "The Light We Carry," Mrs. Obama offers readers fresh and inspiring stories from her life, and insightful reflections on change, challenge, and power, including her belief that when we light up for others, we can illuminate the richness and potential of the world around us, discovering deeper truths and new pathways for progress.
Here are some observations and notes about the impact LIGHT is having, compiled by our Random House division's publicity and social media colleagues.
The Reviews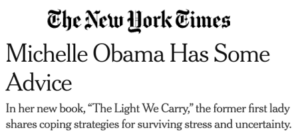 New York Times: "So it is perhaps no surprise that Obama's road map for uncertain times resonates in ways that other self-help books do not. If I am going to have someone guide me through this terrain…I want to hear from Michelle Obama…"
Washington Post: "What makes the book special is that it builds on parts of 'Becoming,' and Obama serves as mentor and guide, using pivotal moments in her life to demonstrate when she had to rely on boldness, pluck and grit, as she made her way from a second-floor apartment on Chicago's South Euclid Avenue to the Ivy League to what she describes as a '132-room palace, surrounded by guards.'"
The National Media
On Sunday evening, November 13, nearly three million viewers watched an ABC News one-hour primetime special devoted entirely to "The Light We Carry"—as befits a subject whom many believe is America's (if not the world's) most admired and influential woman—in a conversation between our author and the network's "Good Morning America" co-anchor Robin Roberts. According to social media engagers, viewers particularly loved the segment on "kitchen table" friendships.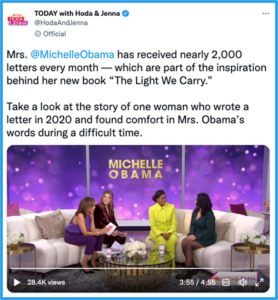 Monday morning, November 14, the NBC-TV Today Show featured Mrs. Obama for its entire 10am hour, with Today show third-hour co-hosts Hoda Kotb and Jenna Bush, in a brilliantly produced series of segments that moved many in the studio audience—as well as our author, her hosts, and surely many watching at home—to tears.
That evening, Mrs. Obama joined Stephen Colbert on his CBS-TV late night show for a fun "family meeting" skit, which viewers loved, followed by a lively, extended conversation with him about her book's themes.
NPR ran a multi-part interview with Mrs. Obama and NPR host Juana Summers that aired on "All Things Considered," "Morning Edition," and across several NPR podcasts such as "Life Kit."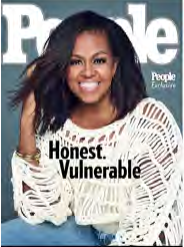 People Magazine did an interview with Mrs. Obama that posted as a 7-minute video on People.com on November 10. The interview appears in print in People magazine's "Sexiest Man Alive" issue. The magazine's readers appreciate Mrs. Obama's journey to self-acceptance, as expressed in the interview, as well as her assertion that others affirming you isn't enough: You must also believe those words yourself.
Knitting
The knitting community is now having an unexpected moment, warmly embracing our author— who taught herself how to knit during the pandemic­—as a new member. In select interviews, Mrs. Obama has proudly shown some of the sweaters, scarves, and other clothing items she has created.
And TikTok is already alight, with the book's readers going there to respond with love and share inspiration.
The National Tour
Mrs. Obama opened her six-city theater tour, produced by Live Nation, on the book's on-sale date— Tuesday night, November 15—in conversation with Ellen DeGeneres at the Warner Theatre in Washington, D.C., during which they discussed the many themes from her book. After three nights in D.C., other stops include evenings in Philadelphia, Atlanta, Chicago, and San Francisco, ending in mid-December with Mrs. Obama in conversation with Oprah Winfrey in Los Angeles.
On opening night, signed copies of "The Light We Carry" sold out before the show began. Ticket holders rushed directly to bookseller Politics and Prose's table, set-up on-site, to buy the book before taking their seats.
The Audio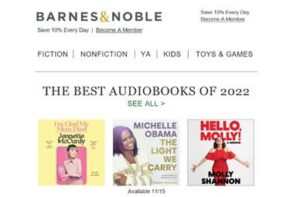 Our publicity teams at Crown and RH Audio worked together to feed out clips from the audiobook edition to major media outlets such as ABC News, NPR, and the BBC, to name just a few.
Sales to date of the Random House audio edition, read in its entirety by the author, are outstanding.
Audible has selected "The Light We Carry" as one of its Best Audiobooks of 2022. "Few listens in recent years have made an impact as lasting as Michelle Obama's brilliant 'Becoming.'…Her eagerly awaited follow-up…glimmers with Obama's signature sense of compassion in a voice that's warm and empowering…This is another instant classic from a cultural powerhouse."
To Come
After a Thanksgiving break, Mrs. Obama will resume her book tour with events and interviews on "Jimmy Kimmel Live!" and the "Kelly Clarkson Show," with additional media still being scheduled.
Now through this Sunday night, Amazon is featuring "The Light We Carry" on their six-story billboard on 7th Ave and 33rd St, outside of Penn Station. Barnes and Noble, Books-A-Million and indie bookstores are celebrating with posters, displays and "We Become Bolder in Brightness" bookmarks distributed across the country. "The Light We Carry" is featured prominently in Target's circular this week, and the clubs are making noise with branded pallets.
So thrilling to bask in, and to project, "The Light We Carry."
Posted: November 18, 2022