Lunch & Laugh with Judd Apatow on "Comedy in Quarantine" via Instagram Live (4/21)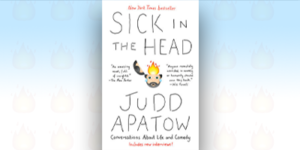 Judd Apatow, author SICK IN THE HEAD: Conversations About Life and Comedy (Random House), discusses "comedy in quarantine" on Lunch & Laugh via Instagram Live on Tuesday, April 21, at 12:30pm (ET).
From the writer and director of Knocked Up and the producer of Freaks and Geeks comes SICK IN THE HEAD , a collection of intimate, hilarious conversations with the biggest names in comedy from the past thirty years—including Mel Brooks, Jerry Seinfeld, Jon Stewart, Sarah Silverman, Harold Ramis, Seth Rogen, Chris Rock, and Lena Dunham.
Judd Apatow is one of the most important comic minds of his generation. He wrote and directed the films The 40-Year-Old Virgin (co-written with Steve Carell), Knocked Up, Funny People, and This Is 40; he directed Trainwreck; and his producing credits include Superbad, Bridesmaids, and Anchorman. Apatow was also the executive producer of Freaks and Geeks and HBO's Girls, and he created Undeclared and co-created the Emmy Award-winning television program The Ben Stiller Show.
!!A reminder for PRH employees: If you are posting this article to a personal or other non-PRH account you must include the hashtag #TeamPRH.!!
Posted: April 20, 2020