Luvvie Ajayi Jones to Discuss Her Book PROFESSIONAL TROUBLEMAKER via Crowdcast (3/5)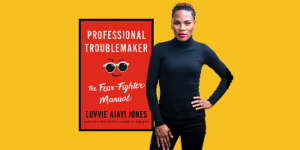 Luvvie Ajayi Jones, author of PROFESSIONAL TROUBLEMAKER: The Fear-Fighter Manual (Penguin Life), will be in conversation with Esther Perel at a virtual event hosted by Loyalty Books (Washington, D.C.) via Crowdcast on Friday, March 5 at 8:00 pm (ET).
Jones is known for her trademark wit, warmth, and perpetual truth-telling. But even she's been challenged by the enemy of progress known as fear. She was once afraid to call herself a writer, and nearly skipped out on doing a TED talk that changed her life because of imposter syndrome. As she shares in PROFESSIONAL TROUBLEMAKER, she's not alone.
With humor and honesty, and guided by the influence of her professional troublemaking Nigerian grandmother, Funmilayo Faloyin, Luvvie walks us through what we must get right within ourselves before we can do the things that scare us; how to use our voice for a greater good; and how to put movement to the voice we've been silencing–because truth-telling is a muscle.
Luvvie Ajayi Jones is an award-winning author, speaker, and podcast host, who thrives at the intersection of comedy, media and justice. She is the author of the New York Times bestseller I'm Judging You: The Do-Better Manual, and her site, AwesomelyLuvvie, is where she covers all things culture with a critical yet humorous lens. She is co-founder of the #SharetheMicNow global movement and runs her own social platform, LuvvNation, which is a safe space in a dumpster fire world.
!! As a reminder, if you are posting to a personal or other non-PRH account you must include the hashtag #TeamPRH !!
Posted: March 3, 2021