Macintyre, Platt and Zimmer on Baillie Gifford Prize for Nonfiction 2018 Shortlist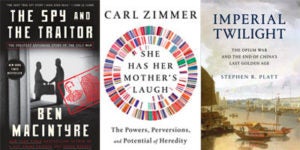 The Baillie Gifford Prize for Nonfiction, the most prestigious nonfiction award in the UK, has announced its six-title 2018 shortlist. Three of the finalists are published in the U.S. by Penguin Random House imprints. Formerly known as the Samuel Johnson Prize, the Baillie Gifford Prize aims to reward the best of nonfiction and is open to authors of any nationality, honoring all nonfiction in the areas of current affairs, history, politics, science, sport, travel, biography, autobiography and the arts.
Our Penguin Random House U.S. finalists:
THE SPY AND THE TRAITOR by Ben Macintyre (Crown)
IMPERIAL TWILIGHT: The Opium War and the End of China's Last Golden Age by Stephen R Platt (Knopf)
SHE HAS HER MOTHER'S LAUGH: The Powers, Perversions and Potential of Heredity by Carl Zimmer (Dutton)
Fiammetta Rocco, chair of the judges, said, "To judge the 2018 Baillie Gifford Prize is to feel once again how miraculous books are. We have read about history and war and science and spying. And along the way we've been thrilled, jolted, consoled, informed and illuminated. It's been a remarkable journey."
Congratulations to our finalists as well as their editors and publishers.
View the complete 2018 Baillie Gifford Prize for Nonfiction shortlist here.
This year's prize winner will be revealed on Wednesday, November 14 at an awards dinner in London.
Posted: November 2, 2018