Madeline McIntosh Keynotes Author Festival in Toronto, Joins Kristin Cochrane for On-Stage Conversation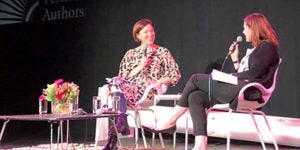 Penguin Random House U.S. CEO Madeline McIntosh delivered the keynote address earlier this week at the Toronto International Festival of Authors to an audience of several hundred industry colleagues and authors in Canadian publishing.
Madeline's speech focused on the current state of the industry and cited particular reasons for ongoing optimism about books: market-wide, sales have grown over the past few years; books are making news and driving cultural conversations; and creative, future-looking retailers like Canadian based Indigo are proving that book consumers remain interested in physical stores.
Following Madeline's keynote, she was joined on stage by Penguin Random House Canada CEO Kristin Cochrane for an in-depth and personal conversation. Touching on their respective considerable industry experience, they discussed the challenges and rewards of their new roles. They also shared what they love about publishing: discovering new great reads, working with authors, and reaching new audiences.
Posted: October 26, 2018