Madeline McIntosh Speaks at New York Public Library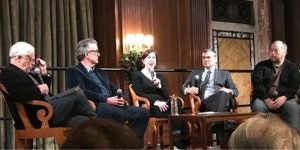 On Monday, December 10, Penguin Random House U.S. CEO Madeline McIntosh joined a panel discussion with several authors as part of the "Who Owns the Word" speaker series co-presented by the Authors Guild and the New York Public Library.
Madeline's fellow panelists included Penguin Random House best-selling authors Kurt Andersen and Richard Russo, fiction writer Alexander Chee, and historical biographer T.J. Stiles. Before a full room of authors, readers, and publishers, the panelists engaged in a lively discussion about the possibilities and challenges of the future of writing as a profession.
Madeline was specifically asked for her thoughts on the current book publishing ecosystem and how the market affects authors' ability to earn a living wage. She noted that market-wide, sales continue to grow and that, for Penguin Random House, total and median author earnings have grown slightly over the last years. Madeline also spoke about how emerging authors greatly benefit from the support of indie bookstores, which fulfill customers' desires for a curated, individualized experience that online algorithms alone cannot deliver.
The panelists shared their insights on how writers can leverage the new digital landscape, and social media specifically, to directly connect with fans and readers, and increase sales. The evening culminated in an audience Q&A, with questions for Madeline about impact of book clubs and reading groups on sales and whether the resale of used books impacts authors' royalties.
To watch a video of the panel, please click here.
Posted: December 12, 2018