Madeline's Picks for Fall 2019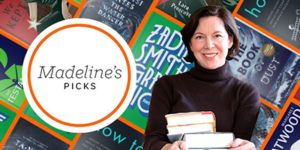 Autumn is finally here, which means falling leaves, cozy sweaters, and most importantly, a whole new crop of fantastic books. Our US CEO, Madeline McIntosh, has shared some of her recommendations for the season's greatest reads.
When you're the CEO of the biggest publishing company in the country, you've got a pretty long to-be-read list! Our fearless leader/reader, Madeline McIntosh, gives us a peek at some of her favorite books—novels, business books, memoirs, and everything in between. Find something fresh to read, recommended by someone who seriously, seriously, knows books.
THE TESTAMENTS by Margaret Atwood (Nan A. Talese/Doubleday)
I suspect you don't need me to put this on your radar, but I can't help it. Whether you first read The Handmaid's Tale decades ago or just came to Margaret Atwood's world of Gilead through the Hulu production, you will love this
GRAND UNION by Zadie Smith (Penguin Press)
When people refer to writing as "laugh-out-loud," they usually just mean it's funny. In this case, I mean it literally: One of Zadie Smith's stories made me laugh out loud on the subway, triggering side-eyes from my fellow straphangers. Pages later, she had me near tears. Her observations are so dead-on, her wit so sharp: It's hard to read these stories without trying to figure out how she could become your new best friend.
THE WATER DANCER (Oprah's Book Club) by Ta-Nehisi Coates (One World/Random House)
It really seems almost unfair that one writer could have such extraordinarily wide-ranging talents, but Ta-Nehisi Coates does. One of the country's foremost thinkers on race and the legacy of slavery has now produced a rich, propulsive, compelling historical novel. Yes, this is a novel of ideas, but it's first and foremost a story about family.
THE BOOK OF DUST: La Belle Sauvage (Book of Dust, Volume 1) by Philip Pullman (Alfred A. Knopf BFYR)
You may already know Philip Pullman from the bestselling The Golden Compass, or you might just become aware for the first time this November, when a spectacular new adaptation starts on HBO. The pick I'm recommending here is one that was published more recently than his famous trilogy, but takes place before all the others chronologically. So, you can start here, catch the bug, and then binge-read the others in the months ahead. Or binge-listen: The audio production is fantastic, and totally works for either adults or younger readers/listeners.
THE SECRETS WE KEPT by Lara Prescott (Alfred A. Knopf)
Spies; forbidden love; clever women propelling a narrative that the men think belongs to them. Oh, and Doctor Zhivago's origin story. It's all in here, and this is the one that will make you turn off the phone and curl up on the sofa for a good long read.
HOW TO by Randall Munroe (Riverhead)
The subtitle really says it all. If there were a nerd utopia, Randall Munroe (creator of xkcd) might be its benevolent overlord. Want to know how to predict the weather by looking at your Facebook photos? Cross a river by boiling it? Catch a drone with sports equipment? Not really? Doesn't matter: You'll want to read this anyway. Can't figure out what to talk to your teenager about? That's the most common real-world problem actually solved in this book.
Posted: October 4, 2019