Madison Smartt Bell Discusses His Biography of Robert Stone via Zoom (4/15)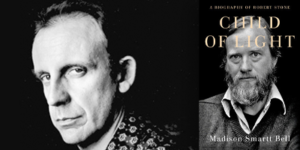 Madison Smartt Bell, author of CHILD OF LIGHT: A Biography of Robert Stone (Doubleday), will discuss his latest book in conversation with Emma Snyder, owner of Baltimore's Ivy Bookshop via Zoom on Wednesday, April 15 at 6:30pm (ET).
CHILD OF LIGHT is the first and definitive biography of Robert Stone, one of the great American novelists of the postwar era, the author of Dog Soldiers and A Flag for Sunrise, and a penetrating critic of American power, innocence, and corruption. An acclaimed novelist himself, Madison Smartt Bell was a close friend and longtime admirer of Robert Stone. His authorized and deeply researched biography is both intimate and objective, a rich and unsparing portrait of a complicated, charismatic, and haunted man and a sympathetic reading of his work that will help to secure Stone's place in the pantheon of major American writers.
Mr. Bell is the author of fourteen previous works of fiction, including All Souls' Rising (a National Book Award finalist), Soldier's Joy and Anything Goes. He lives in Baltimore, Maryland, where he teaches in the Creative Writing Program at Goucher College.
Posted: April 14, 2020