Maggie Doherty In Conversation with Honor Moore about THE EQUIVALENTS via Crowdcast (6/23)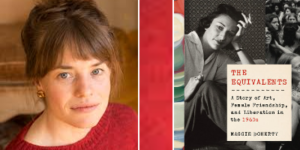 Maggie Doherty, author of THE EQUIVALENTS: A Story of Art, Female Friendship, and Liberation in the 1960s (Knopf), will be on conversation with writer Honor Moore at a virtual event hosted by Oblong Books via Crowdcast on Tuesday, June 23 at 7:00pm (ET).
THE EQUIVALENTS tells the timely, never-before-told story of five brilliant, passionate women who, in the early 1960s, converged at the newly founded Radcliffe Institute for Independent Study and became friends as well as artistic collaborators, and who went on to shape the course of feminism in ways that are still felt today.
In 1960, Harvard's sister college, Radcliffe, announced the founding of an Institute for Independent Study, a "messy experiment" in women's education that offered paid fellowships to those with a PhD or "the equivalent" in artistic achievement. Five of the women who received fellowships–poets Anne Sexton and Maxine Kumin, painter Barbara Swan, sculptor Mariana Pineda, and writer Tillie Olsen–quickly formed deep bonds with one another that would inspire and sustain their most ambitious work. They called themselves "the Equivalents." Drawing from notebooks, letters, recordings, journals, poetry, and prose, Maggie Doherty weaves a moving narrative of friendship and ambition, art and activism, love
Doherty is a literary scholar, historian, and critic based at Harvard, where she earned her PhD in English and where she currently teaches writing, literature, and history. Her writing has appeared in many publications, including The New Republic, The New York Times, n+1, and The Nation. She lives in Somerville, Massachusetts.
!! As a reminder, if you are a PRH employee posting to a personal or other non-PRH account, you must include the hashtag #TeamPRH !! 
Posted: June 21, 2020