Maira Kalman Celebrates CAKE: View Her Art, Watch Her Video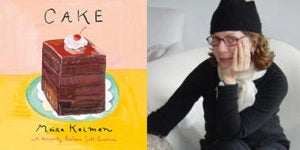 With great style, wit, and joy, Maira Kalman and Barbara Scott-Goodman have collaborated to celebrate their favorite dessert in CAKE, published by Penguin Press. Kalman's enchanting illustrations, in her inimitable style, and Scott-Goodman's mouthwatering recipes complement each other perfectly, making CAKE a whimsical celebration of a timeless dessert.
The Wall Street Journal called CAKE a "stunningly designed book . . . There is love and loss, heartbreak, celebration, poignant and hilarious times—always with cake." Shelf Awareness featured the Penguin Press video trailer with Maira that gave a behind-the-scenes peak of the book writing process, in addition to some "procrastibaking."
Watch Maira's charming CAKE video:
On Sunday, May 6, meet up with Maira at the Brooklyn Public Library for a "Square Dance Sunday Book Signing, featuring CAKE and Max the Dog." And don't worry, there will be plenty of cake!
Posted: April 24, 2018