MAKE ME A WORLD, New RHCB Imprint Led by Christopher Myers, to Launch First List This Fall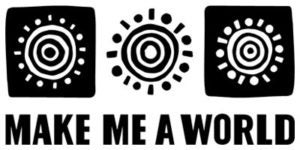 MAKE ME A WORLD, a new Random House Children's Books imprint led by Christopher Myers, award-winning author and artist and son of the late acclaimed author Walter Dean Myers, will launch its first list in Fall 2019, it was announced by Michelle Frey, Executive Editor, Alfred A. Knopf Books for Young Readers.
MAKE ME A WORLD is committed to publishing a selection of books that open up new worlds, possibilities, and pathways for young readers of all ages. Myers is focused on bringing voices of thinkers and artists from all walks of life to his list, including filmmakers, musicians, playwrights, painters, writers, astronomers, architects, and more—individuals who have redrawn the boundaries of their own lives and forged new paths.
Said Myers, "Imagine inviting all the smartest people, the artists and writers, thinkers, adventurers, musicians, athletes—the people who will shape culture for years to come, from all walks and all fields—to your living room to share some time with your children. That is what Make Me a World has set out to do."
The imprint's debut list will include two young adult novels and one picture book: PET by critically acclaimed author Akwaeke Emezi, MAMA MABLE'S ALL-GAL BIG BAND JAZZ EXTRAVAGANZA, by debut author and illustrator Annie Sieg, and GRAVITY by Golden Gloves champion and sports journalist Sarah Deming.
Myers writes, "I've grown tired of thinking of literature for young people as a corrective for the past, a rewriting of history. MAKE ME A WORLD is about making books that are more focused on tomorrow than yesterday, on the world that is coming than the worlds that have long gone. At MAKE ME A WORLD, as an imprint, we imagine the future, or rather futures, that are rich in story, diverse in point of view. We are making books not for the imaginary kids of yesterday, but rather for the very real young people of tomorrow."
Said Frey, "Christopher Myers's vision for MAKE ME A WORLD is beautifully captured in this inaugural list. These new and rising literary talents have written world-expanding stories that we hope will inspire, educate, and empower the children and teens who read them. We are so proud of these initial titles and look forward to the important work that will continue to be published by Myers and MAKE ME A WORLD."
Additional titles currently slated for release at a later date include picture books HOW TO SOLVE A PROBLEM, written by rock climber Ashima Shiraishi and illustrated by Yao Xiao; CHILD OF THE UNIVERSE, by accomplished astrophysicist Ray Jayawardhana and illustrated by award-winner Raul Colón; EMILE AND THE FIELD by Kevin L. Young, National Book Award finalist and director of the Schomburg Center for Research in Black Culture; YA memoir WALK TOWARD THE RISING SUN by model and actor Ger Duany; and YA novel-in-verse THE ROAD TO ALMA by poet laureate Tina Cane.
Christopher Myers is a widely acclaimed author and illustrator living in New York. In addition to illustrating his own titles, he has worked with numerous authors, including E. E. Cummings, Zora Neale Hurston, and his father, Walter Dean Myers. The two worked together on the Caldecott Honor winner, Harlem, as well as the Coretta Scott King Honor winners Black Cat and H.O.R.S.E. Most recently he collaborated with dancer Misty Copeland on the picture book FIREBIRD. Myers is a versatile artist, working with photos, gouache, woodcuts, collage, and other artistic media. His fine art has been exhibited at MoMA PS1 and numerous museums and galleries nationally and internationally. Myers also co-directed the documentary film Am I Going Too Fast? with Hank Willis Thomas, and recently wrote and designed a play based on his experiences working with refugee youth in Munich, Cartography, commissioned by the Kennedy Center. He has written several notable essays, among them "Young Dreamers," an eloquent reflection on Trayvon Martin and Ezra Jack Keats's The Snowy Day, as well as the much-discussed "The Apartheid of Children's Literature," published in the New York Times in 2014.
Posted: January 25, 2019