Margaret Atwood Writing HANDMAID'S TALE Sequel for Publication September 10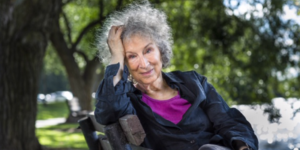 Today it was announced that Margaret Atwood's forthcoming novel, THE TESTAMENTS, will be published on September 10, 2019. THE TESTAMENTS is set fifteen years after Offred's final scene in The Handmaid's Tale and is narrated by three female characters.
McClelland & Stewart in Canada acquired rights for THE TESTAMENTS from Karolina Sutton at Curtis Brown and will publish simultaneously with Penguin Random House across the English-speaking world: Chatto & Windus/VINTAGE in the UK, Australia, New Zealand, South Africa, and India; and Nan A. Talese/Knopf Doubleday in the U.S.
Margaret Atwood says: "Dear Readers: Everything you've ever asked me about Gilead and its inner workings is the inspiration for this book. Well, almost everything! The other inspiration is the world we've been living in."
Kristin Cochrane, Penguin Random House Canada CEO, says: "As the enormous recent success of The Handmaid's Tale has reminded us, Margaret Atwood is one of the greatest writers and most relevant thinkers of our time. To return with her to Gilead is a rare gift, and all of us at Penguin Random House Canada and McClelland & Stewart are very proud to continue our long relationship with Margaret, and excited to publish this brilliant next chapter in a story that has captivated Canadian readers for decades."
First published in 1985, The Handmaid's Tale was shortlisted for the 1986 Booker Prize and eight million copies have been sold globally in the English language.
When Donald Trump was elected President in November 2016, Handmaids became a symbol of the movement against him, representing female empowerment and resistance in the face of misogyny and the rolling back of women's rights. In 2017, the TV adaptation of The Handmaid's Tale starring Elisabeth Moss and Joseph Fiennes launched in Canada and the U.S. on Hulu, and Atwood's novel has spent eighty-eight weeks back on the New York Times bestseller list. The TV adaptation has been nominated for eighteen Emmy Awards, winning six across two series. A third series is currently in production.
THE TESTAMENTS is not connected to the television adaptation of The Handmaid's Tale.
Margaret Atwood, whose work has been published in over forty-five countries, is the author of more than fifty books of fiction, poetry, critical essays and graphic novels. In addition to The Handmaid's Tale, now an award-winning TV series, her novels include Cat's Eye, shortlisted for the 1989 Booker Prize; Alias Grace, which won the Giller Prize in Canada and the Premio Mondello in Italy; The Blind Assassin, winner of the 2000 Booker Prize; The MaddAddam Trilogy; and Hag-Seed. She is the recipient of numerous awards, including the Peace Prize of the German Book Trade, the Franz Kafka International Literary Prize, the PEN Center USA Lifetime Achievement Award, and the Los Angeles Times Innovator's Award. She lives in Toronto with the writer Graeme Gibson.
Posted: November 28, 2018