Margaret Stohl and Melissa de la Cruz Talk "Little Women" at YALLSTAYHOME Fest via Zoom (4/25)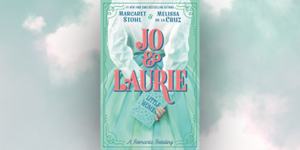 Margaret Stohl and Melissa de la Cruz, co-authors of JO & LAURIE (Putnam Books for Young Readers), open the virtual festival, YALLSTAYHOME, talking all things "Little Women," joined by longtime friend Raphael Simon AKA Pseudonymous Bosch as moderator of the keynote, via Zoom on Saturday, April 25, at 1:00pm (ET).
In JO & LAURIE, bestselling authors Margaret Stohl and Melissa de la Cruz bring readers a romantic retelling of Little Women starring Jo March and her best friend, the boy next door, Theodore "Laurie" Laurence.
1869, Concord, Massachusetts: After the publication of her first novel, Jo March is shocked to discover her book of scribbles has become a bestseller, and her publisher and fans demand a sequel. While pressured into coming up with a story, she goes to New York with her dear friend Laurie for a week of inspiration–museums, operas, and even a once-in-a-lifetime reading by Charles Dickens himself!
But Laurie has romance on his mind, and despite her growing feelings, Jo's desire to remain independent leads her to turn down his heartfelt marriage proposal and sends the poor boy off to college heartbroken. When Laurie returns to Concord with a sophisticated new girlfriend, will Jo finally communicate her true heart's desire or lose the love of her life forever?
!!A reminder for PRH employees: If you are posting this article to a personal or other non-PRH account you must include the hashtag #TeamPRH.!!
Posted: April 24, 2020