Maria Konnikova to Discuss THE BIGGEST BLUFF with David Epstein via Zoom (6/23)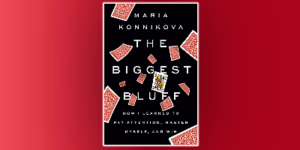 Maria Konnikova, author of THE BIGGEST BLUFF: How I Learned to Pay Attention, Master Myself, and Win (Penguin Press), discusses her new book with David Epstein via Zoom on Tuesday, June 23 at 7:00pm (ET).
Readers of THE BIGGEST BLUFF will learn how a New York Times bestselling author and New Yorker contributor parlayed a strong grasp of the science of human decision-making and a woeful ignorance of cards into a life-changing run as a professional poker player, under the wing of a legend of the game.
Maria Konnikova is the author of Mastermind and The Confidence Game. She is a regular contributing writer for The New Yorker, and has written for The Atlantic, The New York Times, Slate, The New Republic, The Paris Review, The Wall Street Journal, Salon, The Boston Globe, Scientific American, Wired, and Smithsonian, among many other publications. Her writing has won numerous awards, including the 2019 Excellence in Science Journalism Award from the Society of Personality and Social Psychology. While researching THE BIGGEST BLUFF, Maria became an international poker champion and the winner of over $300,000 in tournament earnings. Maria also hosts the podcast The Grift from Panoply Media and is currently a visiting fellow at NYU's School of Journalism. Her podcasting work earned her a National Magazine Award nomination in 2019. Maria graduated from Harvard University and received her PhD in Psychology from Columbia University.
!! As a reminder, if you are a PRH employee posting to a personal or other non-PRH account, you must include the hashtag #TeamPRH !! 
Posted: June 21, 2020