Mark Greaney Discusses His New Gray Man Thriller via Facebook and YouTube (2/18)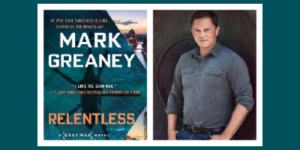 Mark Greaney discusses his newest Gray Man thriller, RELENTLESS (Berkley), in a virtual event hosted by Murder by the Book via Facebook and YouTube on Thursday, February 18 at 8:00 pm (ET).
In RELENTLESS, the Gray Man's search for missing intelligence agents plunges him deep into a maelstrom of trouble. The first agent disappearance was a puzzle. The second was a mystery. The third was a conspiracy.
Intelligence operatives around the world are disappearing. When a missing American agent re-appears in Venezuela, Court Gentry, the Gray Man, is dispatched to bring him in, but a team of assassins has other ideas. Court escapes with his life and a vital piece of intelligence. Meanwhile, CIA agent Zoya Zakharova is in Berlin. Her mission: to infiltrate a private intelligence firm with some alarming connections. The closer she gets to answers, the less likely she is to get out alive. Court and Zoya are just two pieces on this international chessboard, and they're about to discover one undeniable truth—sometimes capturing a king requires sacrificing some pawns.
Mark Greaney has a degree in international relations and political science. In his research for the Gray Man novels, including Agent in Place, Gunmetal Gray, Back Blast, Dead Eye, Ballistic, On Target, and The Gray Man, he traveled to more than fifteen countries and trained alongside military and law enforcement in the use of firearms, battlefield medicine, and close-range combative tactics. He is also the author of the New York Times bestsellers Tom Clancy Support and Defend, Tom Clancy Full Force and Effect, Tom Clancy Commander in Chief, and Tom Clancy True Faith and Allegiance. With Tom Clancy, he coauthored Locked On, Threat Vector, and Command Authority.
!! As a reminder, if you are posting to a personal or other non-PRH account you must include the hashtag #TeamPRH !!
Posted: February 11, 2021