Mark Harris Shares Insights into His New Biography of Mike Nichols via streicker.nyc (2/11)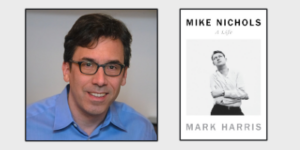 Mark Harris will share insights into his new book, MIKE NICHOLS: A Life (Penguin Press), in conversation with Jessica Shaw at the Temple Emanu-el Streicker Center via streicker.nyc on Thursday, February 11 at 6:30 pm (ET).
MIKE NICHOLS: A Life is a magnificent biography of one of the most protean creative forces in American entertainment history, a life of dazzling highs and vertiginous plunges–some of the worst largely unknown until now.
Mike Nichols burst onto the scene as a wunderkind: while still in his twenties, he was half of a hit improv duo with Elaine May that was the talk of the country. Next he directed four consecutive hit plays, won back-to-back Tonys, ushered in a new era of Hollywood moviemaking with Who's Afraid of Virginia Woolf?, and followed it with The Graduate, which won him an Oscar and became the third-highest-grossing movie ever. At thirty-five, he lived in a three-story Central Park West penthouse, drove a Rolls-Royce, collected Arabian horses, and counted Jacqueline Kennedy, Elizabeth Taylor, Leonard Bernstein, and Richard Avedon as friends.
In an incomparable portrait that follows Nichols from Berlin to New York to Chicago to Hollywood, Harris explores, with brilliantly vivid detail and insight, the life, work, struggle, and passion of an artist and man in constant motion. Among the 250 people Harris interviewed: Elaine May, Meryl Streep, Stephen Sondheim, Robert Redford, Glenn Close, Tom Hanks, Candice Bergen, Emma Thompson, Annette Bening, Natalie Portman, Julia Roberts, Lorne Michaels, and Gloria Steinem.
Mark Harris is also the author of Pictures at a Revolution: Five Movies and the Birth of the New Hollywood, which was a New York Times notable book of the year, and Five Came Back: A Story of Hollywood and the Second World War. He is currently a writer for New York, where he often covers the intersection of culture and politics. He lives in New York City with his husband, Tony Kushner.
!! As a reminder, if you are posting to a personal or other non-PRH account you must include the hashtag #TeamPRH !!
Posted: February 9, 2021