Markus Dohle Receives 2021 HORIZONT Award as a Media Person of the Year in Germany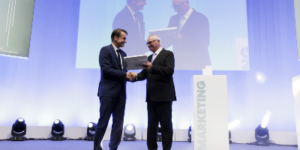 Penguin Random House CEO Markus Dohle received the 2021 HORIZONT Award, which annually honors Germany's Media Persons of the Year, at a ceremony in Frankfurt am Main on Wednesday, October 13. HORIZONT is a nationally recognized media outlet, and its HORIZONT Award, one of the most prestigious honors in the German media and marketing industry, has been presented since 1983.
As HORIZONT noted in its reporting: "With Markus Dohle, the jury honored a Media Man of the Year … Dohle is a manager worthy of the name: economically successful, but at the same time committed to high ethical principles, according to the jury. In an interview, he said, 'You don't have to betray your principles to make it in life.' Dohle is distinguished by his ability to reconcile seemingly contradictory aspects: A sense of tradition and visionary strength, rational business management and empathy for employees. His commitment to sociopolitical issues and his advocacy of the power of the written word are also particularly noteworthy. 'We face the daunting task of having to defend our understanding of democracy!' Dohle said"
Jochen Wegner, Editor-in-Chief of ZEIT ONLINE, said in his laudation, "Markus Dohle is one of the very few top media managers who are passionate about the content they produce … [he] has asserted nothing less than the renaissance of the book. And yes, the renaissance is here. It almost seems as if he has personally talked it into being. … [and he] recognizes that his most important assets are his authors, and he cares for them with love. Penguin Random House is where many of the important young voices are to be found, be it the poet Amanda Gorman, novelist Brit Bennett, or environmental activist Ayana Elizabeth Johnson."
In his acceptance remarks, Mr. Dohle said, in part: "Many thanks to HORIZONT for this award … Early on, I was allowed to work internationally at Bertelsmann, where the social responsibility of the entrepreneur was always of great importance. For almost 15 years, I've been doing that from New York City – with our 15,000 published books a year, which we sell in more than 200 countries around the world. In doing so, our cultural and social mission as publishers has always been at the heart of what I do: We in the media are 'the fourth estate' … This 'fourth estate' in our democracy is under pressure from many sides: from political and social fringe groups as well as from economic constraints in the media – and not least by the Internet and social media as the 'only source of research' for many."
Mr. Dohle further noted, "Journalist and Nobel Peace Prize co-winner Maria Ressa last week said, 'Nothing is possible without facts. A world without facts means a world without truth and trust.' That is why our mission in the media is more important than ever before: We need to regain social consensus on truth based on facts – and with it, trust in the media, which performs this task every day with quality journalism – reporting and investigative. We bookmakers are the 'long form' publishers who try to do that with deeply and holistically researched stories."
To watch a video portrait of Markus Dohle, "My Life in Books," that was screened as part of the HORIZONT Award presentation, click here.
Julia Jäkel, former CEO of Gruner + Jahr—which is part of Bertelsmann—received the HORIZONT Award in 2018.
Posted: October 14, 2021