Markus Zusak Takes Us Behind the Pages of BRIDGE OF CLAY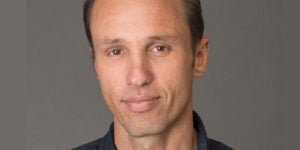 Beloved international bestselling author Markus Zusak has written an extraordinary new novel, BRIDGE OF CLAY, published by Alfred A. Knopf on October 9. Began 13 years ago, Zusak's latest brilliant tome is the story of five brothers, raised in a world run by their own rules. At the center of the family is Clay, a boy who will build a bridge—for his family, for his past, for greatness, for his sins, for a miracle. As the Dunbar boys love and fight and learn to reckon with the adult world, they discover the moving secret behind their father's disappearance.
Known the world over for his acclaimed 2006 novel, THE BOOK THIEF, Zusak follows his own creative timetable, and he says, "Thirteen years is probably long enough between books, but BRIDGE OF CLAY was never meant to be easy. It's a boy in search of a miracle, and that's how I feel about finishing. Every book we write means something to us, but sometimes it comes to mean everything—and BRIDGE OF CLAY, for me, is that latter type: the book you have to fight for, but is all the more rewarding. I hope readers will enjoy spending time with the Dunbar boys, and all their raucous habits—but it's Clay I feel for most, and his attempt to build that bridge of his, and find a way back home."
Working with Zusak throughout the creation of BRIDGE OF CLAY was his editor, Erin Clarke, who says, "Markus is one of the kindest and most generous people I know. He's also meticulous at his craft, which despite the struggles that caused over the past decade, ultimately rewarded not only him but me, as his editor, and I hope and believe, his readers."
In the following "Behind the Pages" author interview, Zusak talks about his creative process, the initial ideas that preceded the writing of BRIDGE OF CLAY, the significance of bridge building as a central theme, and what the author hopes will be the key reader takeaway.
Where was the idea behind BRIDGE OF CLAY born?
The right ideas are usually buried beneath several wrong ideas first – and those wrong ideas can take months, sometimes years to get through – but in that time you accrue what you need for when the right ideas come together. In this case, I stumbled over the thought of a boy building a bridge when I was nineteen or twenty years old – but I had a lot of growing up to do, both as a person and a writer – before I was able to write it. I tried, of course. I even finished a version of BRIDGE OF CLAY that I didn't send off to attempt publication. I was a long way from having anything published at that stage – but I knew even then that the version I'd written wasn't the right one…I didn't know it would be another twenty three years before I'd get there.
How was writing and the writing process of BRIDGE OF CLAY different from that of THE BOOK THIEF?
Well, it was harder, and definitely longer. There were a lot more failures, too. People would say, 'Just write a different book. It doesn't have to be better than the last one.' But I've always tried to write a better book than the last one, so why stop now? There was also the thought of writing a different project, but there was a problem with that as well – there were no other projects. Every idea I had was going into BRIDGE OF CLAY, and I'm glad now that I persevered.
Why does Clay feel strongly about building a bridge? What is the significance of bridge building for him?
There's obviously the literal, physical bridge he builds, but there are several more bridges within that bridge – like the bridge back to his father, to the past (to both tragic and beautiful memories), to his attempt at greatness, to forgiveness of himself…In the end, Clay is building a bridge that both connects him to the people he loves, but also carries him where he needs to go alone. As his brother Matthew says, he's a boy caught in the current of destroying everything he has to become all he needs to be – and the irony is that it's all part of the same bridge. And Clay is a bridge himself – he's the bridge of the Dunbar family as a whole. He carries them where they need to go.
What is your hope that readers will take away with them after reading BRIDGE OF CLAY?
I only know that writing this book has emptied me out – I gave everything of myself, and maybe that's all I can ask for. In the end, this book is made of everything in me – and maybe I want the reader to feel that. But I don't expect it. Readers owe me nothing. I owe them everything.
Posted: October 9, 2018