Marlon James Creates "a Vast Playground of Myth, History and Legend"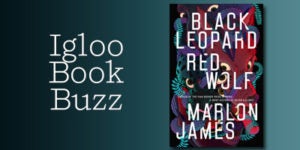 "Gripping, action-packed … The literary equivalent of a Marvel Comics universe — filled with dizzying, magpie references to old movies and recent TV, ancient myths and classic comic books, and fused into something new and startling by his gifts for language and sheer inventiveness." That is how book reviewer Michiko Kakutani describes Marlon James' BLACK LEOPARD, RED WOLF, published on February 5 by Riverhead, in The New York Times Book Review.
This week's Igloo Book Buzz selection BLACK LEOPARD, RED WOLF is both surprising and profound as it explores the fundamentals of truth, the limits of power, and our need to understand them both. In terms of his inspiration for the book, James said he wanted to build "a vast playground of myth and history and legend that other people can draw from, a pool that's as rich as Viking or Celtic lore."
Riverhead Executive Editor Jake Morrissey: "What's fascinating is that Marlon James has a true gift for surprise: Wherever you thought you knew where he was going, Marlon would up-end your expectations and take you and his characters on new adventures that constantly reimagined the story. It was as much a wild ride for his editor as it is for his readers."
The first novel of James's Dark Star trilogy, BLACK LEOPARD, RED WOLF explores what happens when a mercenary is hired to find a missing child. Tracker is known far and wide for his skills as a hunter: "He has a nose," people say. Engaged to track down a mysterious boy who disappeared three years earlier, Tracker breaks his own rule of always working alone when he finds himself part of a group that comes together to search for the boy. The band is a hodgepodge, full of unusual characters with secrets of their own, including a shape-shifting man-animal known as Leopard.
As Tracker follows the boy's scent–from one ancient city to another; into dense forests and across deep rivers–he and the band are set upon by creatures intent on destroying them. As he struggles to survive, Tracker starts to wonder: Who, really, is this boy? Why has he been missing for so long? Why do so many people want to keep Tracker from finding him? And perhaps the most important questions of all: Who is telling the truth, and who is lying?
Marlon James was born in Jamaica in 1970. His novel, A BRIEF HISTORY OF SEVEN KILLINGS, won the 2015 Man Booker Prize. It was also a finalist for the National Book Critics Circle Award and won the OCM Bocas Prize for Caribbean Literature for fiction, the Anisfield-Wolf Book Award for fiction, and the Minnesota Book Award. It was also a New York Times Notable Book. James is also the author of THE BOOK OF NIGHT WOMEN, which won the 2010 Dayton Literary Peace Prize and the Minnesota Book Award, and was a finalist for the 2010 National Book Critics Circle Award in fiction and an NAACP Image Award.
Posted: February 6, 2019