MARTHA STEWART'S CAKE PERFECTION Serves Baking Secrets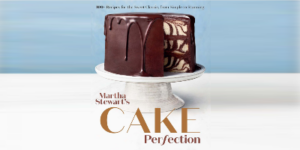 In MARTHA STEWART'S CAKE PERFECTION, published by Clarkson Potter, Martha Stewart demystifies even the most extraordinary creations with her guidance and tricks for delicious cake perfection. Martha says, "I, my daughter Alexis, and many of my friends and colleagues bake our own cakes—for celebrations, of course, but also for all sorts of non-events, just because we love to bake, to experiment, to be challenged. We have worked a long time perfecting the new and old favorites in this book, honing techniques so each cake will look and taste like the prototype pictured. Your cakes will be Instagram-perfect and will not last very long once that first slice is cut. I think you will enjoy all the cakes and the clear instructions in this book, and that you will wish there were something special to bake them for every week. Don't wait, bake anyway!"
With 125 recipes for all occasions, from everyday favorites to stunning showstoppers, Martha creates bold, modern flavors and striking decorations perfect for birthdays, celebrations, and big bakes for a crowd. Think comforting classics like Snickerdoodle Crumb Cake and Apricot Cheesecake and treats that take it up a notch like Strawberry Ombré Cake and Coconut Chiffon Cake, plus a whole chapter on cupcakes alone.
From MARTHA STEWART'S CAKE PERFECTION
Featured Recipe
Chocolate Zucchini Cake
Serves 10 to 12
Zucchini, the ubiquitous vegetable, brings subtle flavor and incredible moisture to this cake—so you can bake it ahead—while two types of chocolate and tangy cream cheese frosting are the stars of the show. As a pretty hint at your secret ingredient, candy some zucchini blossoms to scatter on top.
INGREDIENTS FOR THE CAKE
1 stick (½ cup) unsalted butter, melted, plus more for pan
1¾ cups unbleached all-purpose flour
½ cup unsweetened Dutch-process cocoa powder
1¾ cups sugar
1½ teaspoons baking powder
¼ teaspoon baking soda
1 teaspoon kosher salt
4 large eggs, room temperature
2 teaspoons vanilla extract
4 cups grated zucchini (from 2 medium), drained and squeezed of excess moisture
5 ounces semisweet chocolate, chopped (1 cup)
Cream Cheese Frosting (see below)
INGREDIENTS FOR THE CANDIED ZUCCHINI BLOSSOMS
2 ounces zucchini blossoms (about 8)
½ teaspoon safflower oil
1 tablespoon sugar
INGREDIENTS FOR THE CREAM CHEESE FROSTING
3 sticks (1½ cups) unsalted butter, room temperature
3 packages (8 ounces each) cream cheese, room temperature
4 cups confectioners' sugar, sifted
1 tablespoon vanilla extract (optional)
Pinch of kosher salt
DIRECTIONS
Make the cake: Preheat oven to 350°F. Butter a 10-by-15-inch jelly-roll pan. Line bottom with parchment, leaving a 2-inch overhang on two sides; butter parchment.
In a large bowl, whisk together flour, cocoa, sugar, baking powder, baking soda, and salt. In a medium bowl, whisk together eggs, butter, and vanilla. Stir egg mixture into flour mixture until just combined, about 1 minute. Stir in zucchini and chocolate (batter will be quite thick). Transfer batter to prepared pan, smoothing top with an offset spatula. Bake, rotating pan halfway through, until a cake tester comes out clean, 28 to 30 minutes. Transfer pan to a wire rack to cool. Using parchment overhang, turn out cake onto rack to cool completely.
Make the candied zucchini blossoms: Reduce oven to 275°F. Line a rimmed baking sheet with a nonstick baking mat or parchment. Halve blossoms lengthwise and remove stamens. In a medium bowl, very gently toss with oil and sugar, place on prepared sheet, and bake 10 minutes. Using an offset spatula, gently flip blossoms; bake 5 minutes more, then flip again. Repeat, checking frequently to avoid burning, until dry to the touch, about 20 minutes more. Transfer sheet to a wire rack to cool completely. (Blossoms can be stored in an airtight container in a cool, dry place up to 3 days. Recrisp in a 275°F oven before using.)
Make the cream cheese frosting: With an electric mixer on medium-high speed, beat butter until smooth, about 2 minutes. Add cream cheese and beat until fluffy. Reduce speed to low and add confectioners' sugar, ½ cup at a time. Add vanilla, if using, and salt, and mix until smooth and well combined, scraping down sides of bowl as needed.
Spread frosting evenly over top of cake with an offset spatula. Garnish with zucchini blossoms and serve. (Cake can be refrigerated, without blossoms, up to 8 hours.)
Posted: November 23, 2020