Mary-Louise Parker Narrates Audiobook of John Grisham's THE JUDGE'S LIST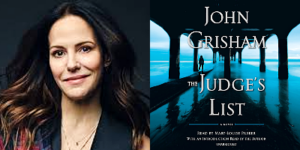 John Grisham's upcoming legal thriller, THE JUDGE'S LIST, will be narrated by Tony, Emmy, and Golden Globe award-winning actress Mary-Louise Parker (Random House Audio; on sale October 19). Grisham also narrates an introduction for listeners, available exclusively on the audiobook.
Parker has earned acclaim for her work on stage and screen, including a seven-season run playing Nancy Botwin on Showtime's Weeds, performances in the miniseries adaptation of Tony Kushner's Angels in America, and plays such as How I Learned to Drive and Proof on Broadway.
Her nuanced performance of complex female characters is a perfect fit to voice Grisham's Florida investigator Lacy Stoltz. In The Whistler, she took on a crime syndicate that was paying millions to a crooked judge. In THE JUDGE'S LIST, the crimes are even worse—Stoltz follows the trail of a serial killer, and closes in on a shocking suspect—a sitting judge.
Grisham says of Parker's casting, "Years ago, Mary-Louise Parker excited audiences with her portrayal of Dianne Sway in the film version of The Client. Now, I'm excited she will be bringing to life one of my favorite characters, Lacy Stoltz. The audio world is in for a treat."
THE JUDGE'S LIST is also available in the hardcover and eBook formats from Doubleday Books.
Posted: September 27, 2021