Matt Haig and Jasper Fforde In Conversation about Their New Novels via Facebook Live (9/30)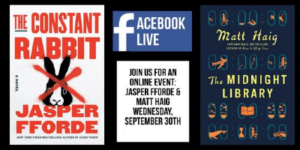 Matt Haig, whose new novel is THE MIDNIGHT LIBRARY (Viking), and Jasper Fforde, whose latest novel is THE CONSTANT RABBIT (Viking) will be in conversation at a virtual event hosted by Murder By the Book via Facebook Live on Wednesday, September 30 at 2:00 pm (ET).
In Haig's THE MIDNIGHT LIBRARY, Nora Seed is faced with the possibility of changing her life for a new one, following a different career, undoing old breakups, realizing her dreams of becoming a glaciologist; she must search within herself as she travels through the Midnight Library to decide what is truly fulfilling in life, and what makes it worth living in the first place.
In Fforde's THE CONSTANT RABBIT, it's England, 2022. There are 1.2 million human-size rabbits living in the UK. They can walk, talk, drive cars, and they like to read Voltaire, the result of an Inexplicable Anthropomorphizing Event fifty-five years before. An inimitable blend of satire, fantasy, and thriller, this novel is the latest dazzlingly original foray into Jasper Fforde's ever-astonishing creative genius.
Jasper Fforde spent twenty years in the film business before debuting on the New York Times bestseller list with The Eyre Affair in 2002. Since then he has written another twelve novels, including the #1 bestseller One of Our Thursdays Is Missing; the Last Dragonslayer series, adapted for television by Sky; and most recently the New York Times bestseller Early Riser. He lives in Wales.
Matt Haig is the author of the internationally bestselling memoir Reasons to Stay Alive, along with five novels, including How to Stop Time, and several award-winning children's books. His work has been translated into more than thirty languages.
!! As a reminder, if you are posting to a personal or other non-PRH account you must include the hashtag #TeamPRH !!
Posted: September 28, 2020