Matthew Desmond Wins RFK Book Award for EVICTED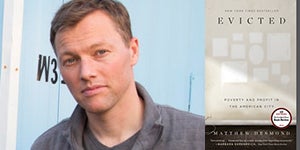 Robert F. Kennedy Human Rights presented its 37th Annual Book Award to Matthew Desmond's EVICTED, the Pulitzer Prize-winning title published by the Crown Publishing Group.  Book Awards Chair Michael Beschloss said, "EVICTED takes an unsparing look at issues that Robert Kennedy cared deeply about – poverty and the inability of many poor people to have the security of home that most Americans enjoy. Matthew Desmond brings to painful life the challenges which many poor families face, and reveals those who profit from their struggles."
The Book Awards were presented, along with the 49th Robert F. Kennedy Journalism Awards, by Mrs. Robert Kennedy and Kerry Kennedy with Chair Margaret Engel on Tuesday, May 23, at the Newseum in Washington, DC.
The Robert F. Kennedy Book Awards honor authors whose writing focuses on social justice issues of concern to Robert Kennedy. Over 70 works were nominated for honors in 2017.
Led by human rights activist and lawyer Kerry Kennedy, Robert F. Kennedy Human Rights has advocated for a more just and peaceful world since 1968.
Posted: May 24, 2017