Matthew McConaughey to Talk About His Memoir with Reese Witherspoon via ExtendedSession (10/30)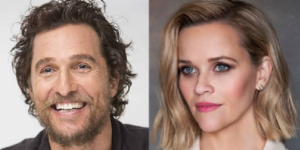 Matthew McConaughey, author of GREENLIGHTS (Crown), will be in conversation with Reese Witherspoon at a virtual event hosted by Book Passage via ExtendedSession on Friday, October 30 at 7:00 pm (ET).
In GREENLIGHTS, readers will learn about many of the adventures and formative moments in McConaughey's life, and the sense of meaning he's found through his philosophy of the same name. From growing up as an adventurous kid in a tough-love Texas home of rule breakers, to revelatory journeys to Australia, Peru, and Mali, to his early days in Hollywood and meteoric rise to fame, McConaughey shares how his life experiences have instilled in him the importance of competent values, the power of new experiences, and, as he puts it, "either changing your reality or changing how you see it."
Written with candor, humor, and profound insight and humility, the uniquely McConaughey GREENLIGHTS is an unconventional portrait of an unconventional artist and a wise road map to navigating a life of more greenlights—one that recognizes that the red and yellow lights eventually turn green, too.
Academy Award–winning actor Matthew McConaughey is a married man, a father of three children, and a loyal son and brother. He considers himself a storyteller by occupation, believes it's okay to have a beer on the way to the temple, feels better with a day's sweat on him, and is an aspiring orchestral conductor.
!! As a reminder, if you are posting to a personal or other non-PRH account you must include the hashtag #TeamPRH !!
Posted: October 29, 2020