MAX AND THE MIDKNIGHTS Author Lincoln Peirce In Virtual Conversation With Jeff Kinney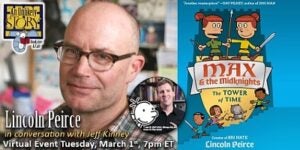 Attention folks with middle-grade kids: Lincoln Peirce, author of MAX AND THE MIDKNIGHTS: The Tower of Time (Crown Books for Young Readers), and Jeff Kinney, the author of the Diary of a Wimpy Kid Series, will be in conversation during a virtual event hosted by An Unlikely Story Bookstore & Café via Crowdcast on Tuesday, March 1 at 7:00 pm (ET).
To register for this event, click here.
MAX AND THE MIDKNIGHTS: The Tower of Time is the third installment of Max's adventures. This time, Max and her Midknights are racing against the clock to find her twin and while to avoid the dangerous trolls, pirates, and ruthless kings along the way.
The first novel in the series, MAX AND THE MIDKNIGHTS, was Lincoln's first dive into the world of ten-year-old Max, her magic, and (mis)adventures. The funny, illustrated novel starts as an unfinished spoof of sword and sorcery tales and has grown into a series of medieval adventures, with hundreds of exciting illustrations.
Lincoln Peirce is a cartoonist and writer who has worked for Cartoon Network and Nickelodeon. When he is not writing or creating cartoons, he enjoys playing ice hockey, doing crossword puzzles, and hosting a weekly radio show devoted to vintage country music. Lincoln lives with his wife and two children in Portland, Maine.
!! A reminder: You can share this feature. If you are posting to a personal or other non-PRH account you must include the hashtag #TeamPRH !!
Posted: February 28, 2022