Mbue, Lockwood, Clark Among Our 5 NYTBR "10 Best of 2021" Authors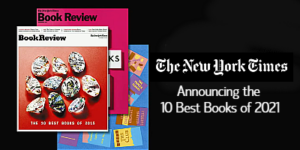 From the 41 titles selected by the editors of the New York Times Book Review from Penguin Random House imprints as part of the "100 Notables of 2021," its editors have chosen five among its "10 Best Books of 2021." Announced November 30, they are posted in the full list clickable on the NYT website, and ahead in the Book Review's December 13 print edition.
A thrilling honor for these authors and their publishers.
Happy Reading.
HOW BEAUTIFUL WE WERE by Imbolo Mbue (Random House HC & Ebook; Random House TP coming February 2022; Random House Audio)
"Following her 2016 debut, "Behold the Dreamers," Mbue's sweeping and quietly devastating second novel begins in 1980 in the fictional African village of Kosawa, where representatives from an American oil company have come to meet with the locals, whose children are dying because of the environmental havoc wreaked by its drilling and pipelines. This decades-spanning fable of power and corruption turns out to be something much less clear-cut than the familiar David-and-Goliath tale of a sociopathic corporation and the lives it steamrolls. Through the eyes of Kosawa's citizens, Mbue constructs a nuanced exploration of self-interest, of what it means to want in the age of capitalism and colonialism — these machines of malicious, insatiable wanting."
INTIMACIES by Katie Kitamura (Riverhead HC & Ebook; Penguin Audio)
"In Kitamura's fourth novel, an unnamed court translator in The Hague is tasked with intimately vanishing into the voices and stories of war criminals whom she alone can communicate with; falling meanwhile into a tumultuous entanglement with a man whose marriage may or may not be over for good. Kitamura's sleek and spare prose elegantly breaks grammatical convention, mirroring the book's concern with the bleeding lines between intimacies. Like her previous novel, "A Separation," "Intimacies" scrutinizes the knowability of those around us, not as an end in itself but as a lens on grand social issues from gentrification to colonialism to feminism. The path a life cuts through the world, has its greatest significance in the effect it has on others."
NO ONE IS TALKING ABOUT THIS by Patricia Lockwood(Riverhead HC & Ebook; Riverhead TP coming February 2022; Penguin Audio)
"Lockwood first found acclaim as a poet on the internet, with gloriously inventive and ribald verse — sexts elevated to virtuosity. In "Priestdaddy," her indelible 2017 memoir about growing up in rectories across the Midwest presided over by her gun-loving, guitar-playing father, a Catholic priest, she called tweeting "an art form, like sculpture, or honking the national anthem under your armpit." Here, in her first novel, she distills the pleasures and deprivations of life split between online and flesh-and-blood interactions, transfiguring the dissonance into art. The result is a book that reads like a prose poem, at once sublime, profane, intimate, philosophical, hilarious and, eventually, deeply moving."
RED COMET: The Short Life And Blazing Art Of Sylvia Plath by Heather Clark (Knopf HC & Ebook; Vintage PB; Random House Audio)
"To expand on her acclaimed 2013 series for The Times about Dasani Coates, a homeless New York schoolgirl, and her family, Elliott spent years following her subjects in their daily lives, through shelters, schools, courtrooms and welfare offices. The book she has produced — intimately reported, elegantly written and suffused with the fierce love and savvy observations of Dasani and her mother — is a searing account of one family's struggle with poverty, homelessness and addiction in a city and country that have failed to address these issues with efficacy or compassion."
INVISIBLE CHILD: Poverty, Survival and Hope in an American City by Andrea Elliott (Random House HC & Ebook; Random House Audio)
"It's daring to undertake a new biography of Plath, whose life, and death by suicide at 30 in 1963, have been thoroughly picked over by scholars. Yet this meticulously researched and, at more than 1,000 pages, unexpectedly riveting portrait is a monumental achievement. Determined to rescue the poet from posthumous caricature as a doomed madwoman and "reposition her as one of the most important American writers of the 20th century," Clark, a professor of poetry in England, delivers a transporting account of a rare literary talent and the familial and intellectual milieu that both thwarted and encouraged her, enlivened throughout by quotations from Plath's letters, diaries, poetry and prose."
NY Times Best Illustrated Books of 2021
On the Children's books side, we also congratulate our Northern colleagues at Tundra, the children's books imprint of Penguin Random House Canada, as the publisher of one of the N.Y. Times-recognized "Best Illustrated Books of 2021": "Time Is A Flower," written and illustrated by Julie Morstad.
Revealed in the November 14 edition of the New York Times Book Review, the list is comprised of ten books selected "purely on the basis of artistic merit," which are honored as winners of this year's "The New York Times/ New York Public Library Best Illustrated Children's Book Award."
Tundra titles are distributed in the U.S. by Penguin Random House Publisher Services (PRHPS), whose client Holiday House publishes another 2021 honoree: "The Little Wooden Robot And The Log Princess," written and illustrated by Tom Gould for its Neal Porter imprint.
Posted: November 30, 2021