McLaughlin, Solnit, Chariandy Win 2019 Windham-Campbell Prizes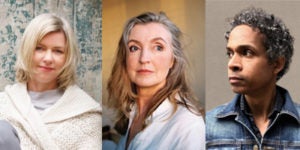 Random House author Danielle McLaughlin, Penguin Books author Rebecca Solnit, along with Penguin Random House Canada / McClelland & Stewart author David Chariandy, were among the eight winners of the prestigious Windham-Campbell Prizes for 2019, announced on March 12 in London. Each of the winners will receive a $165,000 cash award to support their creative works.
Nominated and judged anonymously, English-language fiction and nonfiction writers from anywhere in the world are eligible for the Windham-Campbell Prizes, which honor extraordinary literary achievement or promise. The awards were established in 2013 with a significant gift from Donald Windham in memory of his partner, Sandy Campbell, and are administered by Yale University's Beinecke Rare Book & Manuscript Library. The awards will be conferred in September during an annual international literary festival at Yale celebrating the honored writers and introducing them to new audiences.
The judges' citations:
"Danielle McLaughlin's short stories capture the beauty and brutality of human relationships, imbuing them with near-magical qualities rooted in the details of everyday life in a manner both wry and resonant."
In addition to McLaughlin's Random House story collection, DINOSAURS ON OTHER PLANETS, her stories have appeared in The New Yorker, The Irish Times, The Stinging Fly, and various anthologies.
"With fearless brilliance, Rebecca Solnit ranges through subject matters that include politics, history, literature, art, and feminism in a manner at once provocative, erudite, and intensely engaging."
Solnit is the author of fourteen books, including Penguin's A PARADISE BUILT IN HELL, and WANDERLUST: A History of Walking. as well as As Eve Said to the Serpent: On Landscape, Gender, and Art, which was nominated for the National Book Critics Circle Award in Criticism.
"Offering a vision at once entirely humane and immensely tender, David Chariandy lays bare the ways that gestures and details articulate the revelations of grief as well as the intimacies found within fraught and fraying social spaces."
Among Chariandy's McClelland & Stewart books is BROTHER, which won the 2017 Rogers Writers' Trust Fiction Prize, the 2018 Toronto Book Award and the 2018 Ethel Wilson Fiction Prize. It was also longlisted for the 2017 Scotiabank Giller Prize.
Congratulations to Ms. McLaughlin, Ms. Solnit and Mr. Chariandy, as well as their editors and publishers.
View the complete list of 2019 Windham-Campbell Prize winners here.
Posted: March 15, 2019