Meena Harris's Phenomenal Media Launches Book Club With THE 1619 PROJECT Titles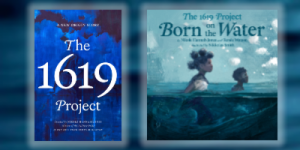 Phenomenal, the media and merchandising company founded by Meena Harris, announced on Tuesday that it is launching a book club, with THE 1619 PROJECT: A New Origin Story and THE 1619 PROJECT: Born on the Water as its inaugural picks.
In an exclusive interview with The Hollywood Reporter, Harris, the niece of Vice President Kamala Harris, shared that Phenomenal will also develop scripted and unscripted content for film and television that concentrates on women and historically excluded communities.
According to its website, "Phenomenal Book Club celebrates and amplifies the works of underrepresented authors, particularly women of color. We focus on new releases and debut works in both fiction and nonfiction genres.
"The stories we select will challenge stereotypes and misconceptions about historically excluded communities; shift the conversation from assumptions to informed dialogue on the most critical social, cultural, and political issues we face today; and help the publishing industry to uphold its 2020 commitments to anti-racism and equity.
"Our book club picks and highlights will build authentic connections between BIPOC authors and the readers who support them. By connecting communities to the power of storytelling, Phenomenal Book Club will create a community of its own."
To celebrate this month's picks, author Nikole Hannah-Jones and illustrator Nikkolas Smith will join Harris for a special virtual event on Saturday, November 20 at 5:00 PM (ET).
You can sign up to watch the event here.
You can also follow Phenomenal Books on Instagram and Twitter.
Posted: November 10, 2021