Meet Megha Majumdar: "A Rare and Powerful New Voice"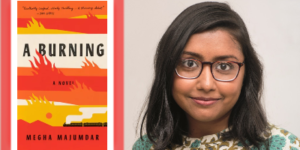 Heralding the publication of Megha Majumdar's A BURNING by Knopf, "This is a novel of now: a beautifully constructed literary thriller from a rare and powerful new voice," said Random House author Colum McCann. Offering more high praise was fellow Knopf author Yaa Gyasi: "A BURNING is an excellently crafted, utterly thrilling novel full of characters that I won't soon forget. Megha Majumdar writes about the ripple effects of our choices, the interconnectedness of our humanity, with striking beauty and clarity. A stunning debut."
A BURNING, the #1 Indie Next Pick for June, features three unforgettable characters who seek to rise–to the middle class, to political power, to fame in the movies–and find their lives entangled in the wake of a catastrophe in contemporary India. There are complex themes that become the components of a thriller: class, fate, corruption, justice, and what it feels like to face profound obstacles and yet nurture big dreams in a country spinning toward extremism.
The New York Times named Megha Majumdar one of 4 Writers to Watch This Summer, and in this Meet Our Author Igloo Interview, she talks about the creation of the characters in her novel, her writing regimen, and what she hopes will resonate most strongly with readers.
What sparked the creation of the primary characters in A BURNING and the storylines that propel the narrative?
I wanted to write about how people caught in hard situations—a government that doesn't necessarily serve them or care for their wellbeing, social systems that hinder rather than help them— still chase big dreams, and live with joy and humor and determination.
How would you describe your writing routine and the process of involved while working on this novel?
I work as an editor too (at Catapult!) so I tried to protect a little bit of time in the mornings to write before work, before emails and deadlines took over. Croissants may've been an integral part of those mornings. Part of what this pandemic has revealed, now that I can't go to coffee shops to work, is how much of writing is discipline and inner drive. That's true for anybody reading this who has an artistic or creative practice outside of work—you have to do the work you know you're capable of doing. It's fine if you have only 15 minutes a day, but you have to practice what you're devoted to in those 15 minutes.
What elements of A BURNING do you think will resonate most strongly with readers?
You know, my big ambition with this book was to speak about nationalism and still be really entertaining, write a book with velocity and charge and heart. I think creating something entertaining takes a great deal of work and craft … I tried, and I hope that comes through!
Posted: June 2, 2020