Meet Our 2023 Creative Writing Award Winners!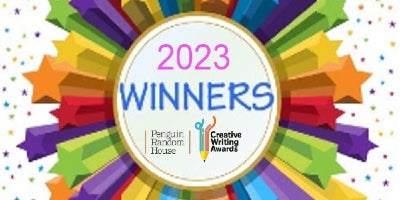 The Penguin Random House Creative Writing Awards honor promising young writers in
public schools nationwide who are daringly original and unafraid to take risks in their
writing. Since 1993, the program has awarded more than $2.9 million to public high school students for original poetry, memoir/personal essay, fiction/drama, and spoken word compositions.  This year, we are thrilled to be celebrating our 30 year anniversary!
The five $10,000 scholarship winners,  received direct access to publishing professionals through a series of virtual events designed and hosted by the PRH Corporate Communications Team. We checked in our 2023 CWA winners, Gloria Blumenkrantz, Madison Corzine, Isabella Rayner, Melissa Vera and Karen Yang, to hear about their feelings on their pieces, their awards, and their hopes for the future.
NYC Entrant: Gloria Blumenkrantz, Frank McCourt High School, New York, NY, Global History 2: 10/26/2020
What does representation in publishing mean to you?
I grew up a voracious reader, unable to get my hands off of books that told stories of kids who lived completely different lives from mine. Until recently, I was convinced that learning about new cultures and perspectives is what drew me into reading. I now see that what I really crave is that connection with the characters because of other things we had in common: similar anxieties, experiences, desires, dreams.
What does winning a Creative Writing Award mean to you?
To me, winning a Creative Writing Award means that someone looked at what I thought only mattered to me and said, "yeah, that's awesome". It means no matter how much I doubt myself and my writing, there is always a chance someone might connect with it (even if it's just my family). It means that maybe this writing for fun thing can be a little more than just a hobby. And it means that paying for my college education is going to be a little bit easier on me and my family.
Michelle Obama Award for Memoir: Madison Corzine, Timber Creek High School, Fort Worth, TX, What I Wish I Knew: A Suburban Black Girl's Guide
What does winning a Creative Writing Award mean to you?
This award is confirmation that I should continue to write about my experiences and give voice to feelings and thoughts that connect with people. I want to shed light on experiences not spoken about to ensure that young girls like me don't feel alienated in the awkward stages of adolescence.
Tell us about your piece.
My piece is an ode to young black girls living in environments like mine, who feel continually unseen, unheard, and unappreciated. I wrote this piece imagining a situation where I could speak to a younger version of myself. Through literature, I want to be the big sister or mentor I wish I had. My piece provides guidance and confirmation that you have the power to create your character in the game of life.
Amanda Gorman Award for Poetry: Isabella Rayner, Marvin Ridge High School, Waxhaw, NC, Cafecito para dos, sin leche
What does representation in publishing mean to you?
To me, representation is about creating stories that people of diverse backgrounds can see, feel, and deeply connect with. It's seeing bits of yourself and those you love in the stories around you. Without good representation, it is easy for many marginalized people to think of themselves as invisible. Our stories and experiences become estranged from the typicality of literature, framed as something abnormal. Representation is a necessary aspect of storytelling that goes beyond just books—it's a reflection of real life and real people.
What does winning a Creative Writing Award mean to you?
Winning the Creative Writing Award helped to prove to myself that I am capable of being an author. Self-criticism is something that I struggle with regarding my writing, no matter how hard I work or how much I improve. Having this moment of acknowledgment made me think that the art I make is worthy of being viewed by others. I'm realizing that I can do what I love, and I can do it well.
Maya Angelou Award for Spoken Word: Melissa Vera, Edgewood High School, West Covina, CA; America
What does winning a Creative Writing Award mean to you?
Ever since I was younger, I have loved to read, whether it was fiction or nonfiction, really anything I could get my hands on. I had always imagined myself on the back of those books, my name on the spine proudly displaying it as my work, but I never believed I would achieve that. I did not have the connections that others had, nor the means of publishing anything myself. I wrote poems in my journal but even from a young age, I thought that it was important to be what I thought was 'realistic'.
Winning this award has changed my point of view, I no longer believe that my dream is unachievable and this has renewed a new sense of confidence within myself. I am going to minor in creative writing and continue writing, with the goal of publishing my work to a large audience one day. I want to inspire the same love for writing and literature that was sparked in me when I was young.
Fiction & Drama: Karen Yang, West Windsor Plainsboro High School South, Princeton Junction, NJ, Chicken Feet
What does representation in publishing mean to you? 
I think it means everything. I've been inspired heavily by reading works by diverse authors, people who have shared their beautifully nuanced experiences. I think that diverse writing is crucial to understanding oneself — it is so important to see yourself on the page, going through similar obstacles and learning to grow from those experiences. Writing reflects human experience and emotions and we are all so diverse; it is only right that our books are.
Do you know what you'd like to do for your career?
I've loved history and writing for all my life—my dream for the longest time has been to run the Met one day but I'm also interested in museum studies, education, economics and maybe becoming a lawyer!
Posted: July 26, 2023