Meet Our Author: Ottessa Moshfegh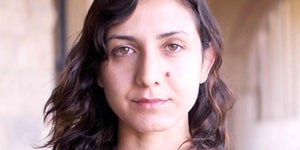 Ottessa Moshfegh's debut novel EILEEN, published by Penguin Press, was one of the literary events of 2015. Garlanded with critical acclaim, it won the PEN/Hemingway Award for Debut Fiction, was nominated for a National Book Critics Circle Award, was shortlisted for the Man Booker Prize, and was named a book of the year by The Washington Post and San Francisco Chronicle. But as many critics noted, Ottessa Moshfegh is particularly held in awe for her short stories.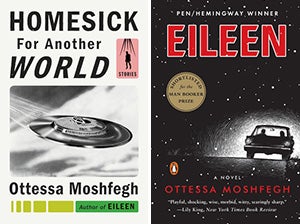 HOMESICK FOR ANOTHER WORLD, on sale now from Penguin Press, is the rare case where an author's short story collection is, if anything, more anticipated than her novel. And for good reason. There's something eerily unsettling about Ottessa's stories, something almost dangerous, while also being delightful, and even laugh-out-loud funny.  Her characters are all unsteady on their feet in one way or another; they all yearn for connection and betterment, though each in very different ways, but they are often tripped up by their own baser impulses and existential insecurities. HOMESICK FOR ANOTHER WORLD is a master class in the varieties of self-deception across the gamut of individuals representing the human condition.
In this Meet Our Author Igloo interview, Ottessa takes us inside her world:
How would you describe your writing regimen and routines?
Obsessive and neurotic and captivating. I wake up, I work, I dilly dally, work, take out the trash, work, pace around, eat, work, shower, work, read, work, go for a walk, call people, work, eat, work, sleep. Toward the end of writing a book, I often sleep with my computer under my pillow…
What differentiates your approach to conceiving a novel as compared with your short stories?
The motivation to write a short story often comes from an abstract, mysterious noise in my head, and I can take my time concentrating on that sound and experimenting with what words, voice, characters, and narrative movements are being described by the music in my mind. Writing a novel is that, plus a million pounds of pressure at my back, loaded with questions about how my life is being reflected in this writing process, and what I want to learn and say to the world. So, novels are more prolonged and intense journeys, although they can start out as playfully as a story.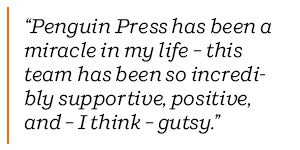 Where do inspirations for your characters and storylines come from?
They come from my life experiences, overheard conversations, dreams, the imagination, the ether…
In what ways has Penguin Press impacted your writing career?
Penguin Press has been a miracle in my life – this team has been so incredibly supportive, positive, and – I think – gutsy.  I tell everyone how blessed I feel to have a publisher that understands my work and sees its value today and the potential for the future.
Posted: January 24, 2017