Megan Monahan on No-Nonsense Meditation via Instagram (4/28)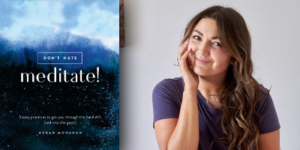 Random House presents a virtual Lunch & Learn with Megan Monahan, author of DON'T HATE, MEDITATE! (Ten Speed Press) via Instagram on Monday, April 28 at 12:30pm (ET).
Meditation instructor, Deepak Chopra protégé, director of Meditation Wanderlust Hollywood, and Lululemon ambassador Megan Monahan presents a no-nonsense guide to meditation for everyday soul-searchers. With a fresh voice and perspective, Monahan presents a set of tools grounded in a meditation technique that is impossible to screw up.
Monahan has been practicing and teaching Vedic Meditation since 2009. She began her study and work in meditation with Deepak Chopra and continues to partner and share the stage with him as a host and teacher at his events several times a year. In addition to reaching thousands through her classes, she also serves as one of only a handful of Lululemon ambassadors that specializes exclusively in meditation.
!!A reminder for PRH employees: If you are posting this article to a personal or other non-PRH account you must include the hashtag #TeamPRH.!!
Posted: April 27, 2020