Meredith Fineman to Talk About BRAG BETTER via Zoom (6/17)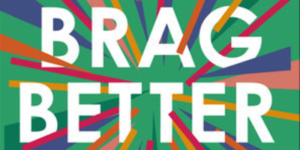 Meredith Fineman, author of BRAG BETTER: Master the Art of Fearless Self-Promotion (Portfolio),will be in conversation with Sarah Hurwitz at a Politics & Prose Live @ Lunch virtual event via Zoom on Wednesday, June 17 at 1:00pm (ET).
BRAG BETTER presents an effortless and unapologetic approach to self-promotion that will manage your anxiety and allow you to champion yourself. Ms. Fineman has built a career working with "The Qualified Quiet": smart people who struggle to talk about themselves and thus go underestimated or unrecognized. Now, she shares the surefire and anxiety-proof strategies that have helped her clients effectively communicate their achievements and skillsets to others. It doesn't require false bravado, talking over people, or pretending to be more qualified than you are. Instead, Fineman advocates finding quiet confidence in your opinions, abilities, and background, and then turning up the volume.
Fineman is an entrepreneur, writer, and host. She is the founder and CEO of FinePoint, a leadership and professional development company that elevates individuals, from young professionals to CEOs, and particularly women on an upward trajectory. Fineman is a freelance writer of 15 years and book collaborator, with bylines from Harvard Business Review to Forbes, Fast Company, and more. She speaks and trains on the power of self-promotion to companies, brands, universities, and groups. She created and hosts It Never Gets Old, a podcast on second-hand and sustainable fashion.
!! As a reminder, if you are posting to a personal or other non-PRH account you must include the hashtag #TeamPRH !!
Posted: June 16, 2020