Mia Rigden on Journaling for Mindful Eating and Better Living via Instagram Live (4/26)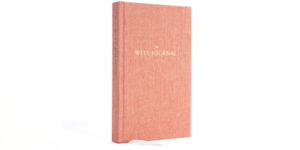 Random House Virtual Events presents Coffee With Mia Rigden, author of THE WELL JOURNAL: A Guided Journal for Mindful Eating and Better Living (Clarkson Potter). Rigden will talk about journaling for mindful eating and better living via Instagram Live on Sunday, April, 26, at 12:00pm (ET).
Rigden, a Los Angeles-based nutritionist and founder of RASA, a holistic wellness practice, believes that good food is the key to living your best life. Whether your goal is increased energy and productivity, improved mood, weight loss, or simply eating more vegetables, being mindful of and logging what you eat will will help you get the results you've been working toward. With space to track meals, sleep, exercise, mindfulness practices, and how you feel, THE WELL JOURNAL will help you connect the dots between what you eat and other aspects of your well-being so that you can feel empowered and deeply satisfied by your food choices.
!!A reminder for PRH employees: If you are posting this article to a personal or other non-PRH account you must include the hashtag #TeamPRH.!!
Posted: April 24, 2020