Michael B. Jordan Stars in Screen Adaptation of Tom Clancy's WITHOUT REMORSE: Watch the Trailer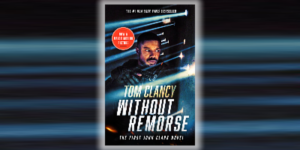 The film adaptation of Tom Clancy's WITHOUT REMORSE, with actor Michael B. Jordan starring as CIA operative John Clark, premieres on Amazon Prime on April 30. The Berkley movie tie-in edition will be published on April 27.
A classic for Clancy fans, this #1 New York Times bestselling novel shows how an ordinary man named John Kelly crossed the lines of justice and morality to become CIA legend John Clark. In the film, Michael B. Jordan, playing Clark, seeks revenge after an assassination attempt leaves him injured and results in the death of his pregnant wife. "There's something inside of me that I can't turn off," Jordan as Clark says in the trailer. "A part of me that won't stop for anything. No remorse."
Click below screen to watch the trailer of Tom Clancy's WITHOUT REMORSE:
Tom Clancy's WITHOUT REMORSE joins Tom Clancy's Jack Ryan streaming series starring John Krasinksi on Amazon Prime.
Posted: March 11, 2021